Report: Matt Barnes agrees to sign with Los Angeles Clippers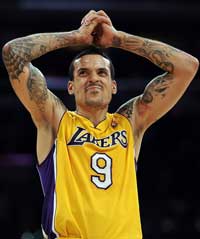 Matt Barnes reportedly soon will sign with the Clippers.
(Getty Images)
Update (Thursday 11:26 a.m.): SI.com reports that Matt Barnes has informed the Clippers that he will sign with them. Terms of the deal are still being worked out.
Apparently about to be squeezed off Los Angeles' top squad, unrestricted free-agent forward Matt Barnes is reportedly looking to land with the city's junior varsity team.
SI.com reports that Barnes, who spent the past two seasons with the Lakers, soon could be signing with the crosstown Clippers.
Barnes may indeed be returning to Los Angeles -- with the Clippers. Sources say the 32-year-old is strongly leaning toward joining the other inhabitants of Staples Center, and a deal could be formalized later this week.

Sources say the Lakers have still been considering signing Barnes as well, along with Brooklyn and Miami.
A few weeks back, Barnes said he was still communicating with the Lakers and "a couple of other teams."
A recent arrest and L.A.'s summer roster moves could put his return to the Lakers in doubt. The Lakers re-signed forward Devin Ebanks and signed free agents Jodie Meeks and Antawn Jamison, while also acquiring Dwight Howard, Steve Nash and Chris Duhon via trade.
"I think it's big," Barnes said of the Lakers' four-team blockbuster trade that landed Howard in exchange for Andrew Bynum. "I think Dwight's going to help, Steve is going to help, Jamison is going to help."
The Clippers are fairly loaded at Barnes' preferred small-forward position. Caron Butler is a solid starter with veteran Grant Hill, signed this summer as a free agent, and second-year forward Travis Leslie backing him up. Lamar Odom can play some small forward. In addition, the Clippers also signed two new off guards this summer, adding free agents Jamal Crawford and Willie Green. Converted off guard Chauncey Billups, who remains out after tearing his Achilles, was also re-signed.
Barnes was arrested by Manhattan Beach back in July and charged with a traffic violation and resisting arrest.
"Hopefully we'll get this arrest situation out of the way so I can go ahead and move forward with my career," Barnes said in August.
Barnes, 32, averaged 7.8 points, 5.5 rebounds and 2.0 assists in 22.9 minutes per game last season. He actually broke into the NBA with the Clippers back in 2003-04. A nine-year NBA veteran, Barnes has had stops with the Clippers, Sacramento Kings, New York Knicks, Philadelphia 76ers, Golden State Warriors, Phoenix Suns, Orlando Magic and the Lakers.
Best known for picking fights and talking trash on the court, Barnes has a long list of incidents to his name. He was suspended from a California pro-am league during the lockout for allegedly punching an opponent. During the 2010-11 season, Barnes threw a Dallas Mavericks assistant coach to the ground during an in-game skirmish and he shoved Clippers All-Star forward Blake Griffin to the ground early in the 2011-12 season, earning a flagrant foul. He was also arrested on a domestic violence charge in September 2010, but was not charged in the incident.