Louisville community leaders meet with city officials to discuss NBA team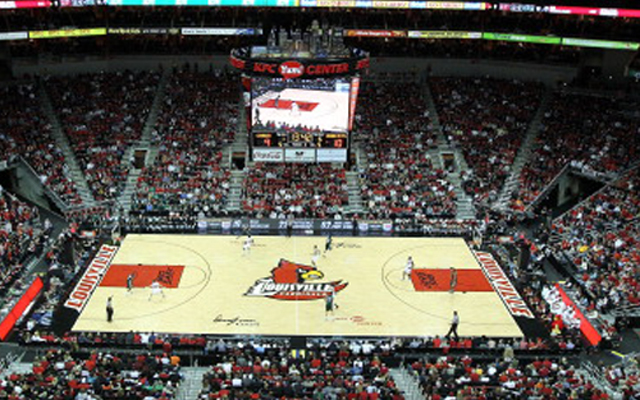 Louisville's KFC Yum! Center is new-ish, but is it right for an NBA team?
(Getty Images)
Louisville has been shopping for an NBA team for a while. The city has a fancy new-ish arena, the KFC Yum! Center (trust me, I feel as stupid writing that as you feel reading it) for the University of Lousville's basketball team, and Louisville is a basketball-crazy town. It's a town that wants to put itself on the map with a pro franchise.
So much so that the mayor and other city leaders met this week with local business owners to discuss what needs to happen for them to get an NBA franchise -- and how it would affect local business. From the Lousiville Courier-Journal:
In a statement, (Lousiville mayor Greg) Fischer said the meeting gauged the "level of interest" and the "conditions necessary to attract a team."

"There was a lot of excitement in the room about what an NBA team could mean for Louisville's global recognition and as a job attractor and economic engine. There are many elements involved in a journey such as this," the mayor said. "This must be a win for the University of Louisville, as well as other stakeholders. I'm excited to be part of the dialogue and I continue to believe we should be ready if an opportunity presents itself."

Phil Miller, a Fischer spokesman, said the city is not involved in any "active deal" with a team.

"I don't think an NBA team is in the offing," said Louisville Metro Council president Jim King, who attended the meeting.
via Mayor, community leaders discuss NBA possibilities for Louisville | The Courier-Journal | courier-journal.com.
And King is right. Louisville would have to leap prospective relocation cities in Seattle, Kansas City and Vancouver with sizeable market and population advantages, as well as arenas that are not or will not be operated by a college. An NBA owner is unlikely to want to split time with and function around the schedule of a college team, even one as high-profile as Louisville's.
It's pretty awesome that in this economy, and with so many cities not responding to the teams they already have, Louisville wants one this badly. But conditions are not favorable for the city to land a relocation team, and expansion, given the talent distribution and economy, is not a feasible alternative.