Bulls, Tom Thibodeau agree to four-year extension worth at least $17.5 million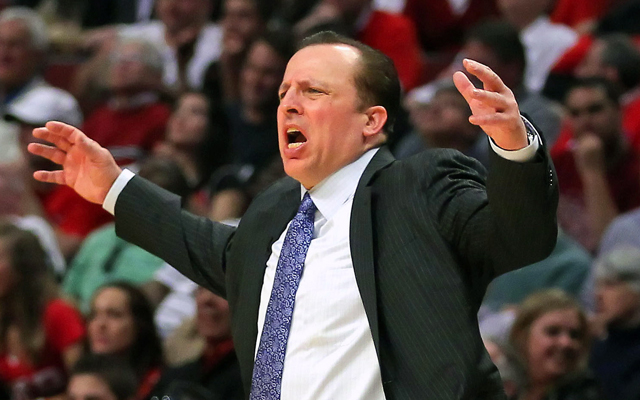 Tom Thibodeau will be with the Bulls for the forseeable future.
(Getty Images)
At media day on Monday, Bulls general manager Gar Forman announced the team had re-signed coach Tom Thibodeau to an extension. Yahoo Sports reported the details of the extension that rewards the former NBA Coach of the Year.
The four-year contract extension coach Tom Thibodeau reached with the Chicago Bulls will pay him a base salary of $17.5 million with bonuses that could push the package to $20 million, league sources told Yahoo! Sports.

After several months of sometimes contentious negotiations, Thibodeau and the Bulls avoided entering a walk year for the 2010-11 NBA Coach of the Year. In two seasons, Thibodeau has rapidly ascended as one of the league's most respected coaches, and multiple teams had planned to pursue Thibodeau next summer if he became a free agent.
via Coach Tom Thibodeau's four-year extension with Bulls could hit $20M - Yahoo! Sports.
Thibodeau was a candidate for Coach of the Year honors last season, eventually losing to the Spurs' Gregg Popovich. But Thibodeau is regarded in elite class, with his defensive system taking a team with good-not-great defensive talent outside of Luol Deng and Joakim Noah, and making them into the most feared defensive unit in the league.
The Bulls had waited and waited on Thibodeau's extension. Instead of locking him up after he showed himself to be one of the best coaches in the league in just his first year on the job, they did what the Bulls usually do. That is, fuss around with the situation and allow speculation on whether notoriously brutal negotiator and owner Jerry Reinsdorf would step up to the plate. But $20 million is $20 million, and a huge investment in Thibs as the architect of the Bulls' future.
They've got their man back, even if they took the long way. Now they just need their MVP back, and maybe the Bulls can zero in on how to bring a championship back to the Windy City.