Spurs sign the big man they've been looking for, Eddy Curry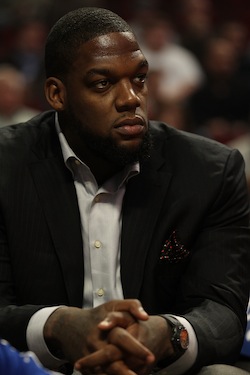 The Spurs took a chance on Curry. (Getty Images)
The San Antonio Spurs have really needed a defensive stopper at the rim, with age starting to affect Tim Duncan. Tiago Splitter shows promise, but they needed someone bigger, badder, someone with championship experience. And now, they have their man.
The Spurs announced on Monday that they've signed Eddy Curry to their training camp squad. Finally, a real veteran who can...
OK, I can't do that joke bit anymore.
Anyway, Curry was available because the Heat decided to go full-on smallball and play as fast as possible. The Spurs need bodies with all of their wing depth, so Curry makes a little bit of sense. There's absolutely no downside to this move. I'd love to tell you whether Curry can make a contribution or not when he's on the floor, but he stepped on the court so fleetingly last season (83 total minutes) that it's impossible to say.
The Spurs tend to reserve roster spots for developmental talent and not veterans with limited conditioning, though Curry's made great strides in the past two years regarding his weight. We'll keep an eye on if he makes the cut or not.
Former Kansas Jayhawk Sherron Collins was also signed to the roster.