Lakers sign Chris Douglas-Roberts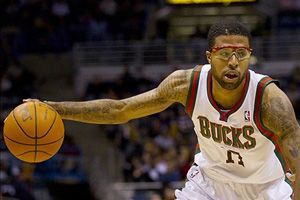 CDR joins the Lakers after a year abroad.
(Getty Images)
Chris Douglas-Roberts is known to those around him as one of the best one-on-one players you'll find. For a long time he didn't lose a one-on-one game. Just didn't lose. It was the transition to the NBA's team game, finding a consistent spot in a rotation and a specific role to filll that eluded him.
And now he has a spot on the most stacked roster, possibly in the league.
The Lakers announced Monday they've signed the 6-7 forward to their training camp roster. He'll compete for time at the small forward position which is thin behind Metta World Peace.
CDR played in Italy for Virtus Bologna once the NBA lockout began in 2011, and did not return once the NBA season began. It was thought up until Monday afternoon that he'd made his way overseas permanently. But instead he joins a team loaded with talent.
Most of the forwards for L.A. tend to play at combo-forward drifting more to the four, so he'll have an opportunity. He can score, the question is if he can do anything else. But for a team with so much age, CDR would bring a younger if not young forward with crazy athleticism. We'll see if he sticks.