Jeremy Lin says Linsanity was too much for him last season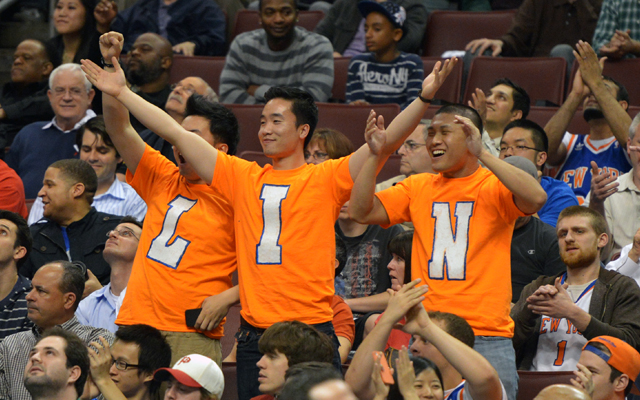 Jeremy Lin got tired of Linsanity, too.
(Getty Images)
If you felt oversaturated and overstimulated by the media's complete freak-out over Linsanity, Jeremy Lin agrees with you. Because he thought it was too much as well.
In a radio interview with KBME in Houston via Sports Radio Interviews, Lin said at times he had enough of the Linsanity phenomenon.
"Yeah, I think ever since the game against the Nets we'd walk in for breakfast every single morning into the practice facility, and they always had ESPN on and I would remember I would just eat breakfast in my locker instead of in there because I didn't want to hear or see about it. (Host: So it became too much at times?) Just because during the season if you watch yourself too much I think for me it builds a little bit of complacency and a little bit of satisfaction that takes my edge down a little bit, which I can't have."
Lin admitted months ago that Linsanity sort of went to his head, and that he had to take a step back and gather himself before he fell in a deep trap of believing his own hype. Lin is one of the league's most level-headed, humble players, and the fact he was able to keep Linsanity under control as well as he did is to be commended.
Things are different now for him in Houston, though. He's not under the spotlight of New York, not playing in Madison Square Garden every night. He's still going to be under a microscope for a whole lot of reasons, but he can relax a little bit and just focus on basketball.
But he was asked if he's ready to be the Rockets' savior, to which he answered simply, "No." Lin said he finds it "awkward" seeing himself on billboards around town. Obviously he's trying to stay as grounded as possible and focus on his job as a point guard for the Rockets and nothing else.
Again, not buying your own hype is a very wise thing. Like Lin said, it can make you complacent and think you've already done something. When in reality, he had a very nice 25-game run, and nothing else. He hasn't proven anything, hasn't won anything. That's not news to him. In fact, he's the one preaching that message.