Tyson Chandler says Jeremy Lin 'just wasn't there' yet last season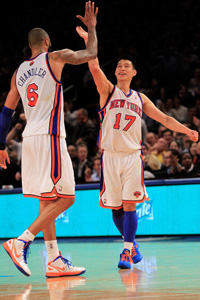 Chandler and Lin in better times.
(Getty Images)
Tyson Chandler is the proverbial "good soldier." He's never going to say anything bad about a teammate; he's always going to protect the guys on his side. Most importantly, he just wants to win. He doesn't care if the Knicks win with Carmelo Anthony, Raymond Felton, Jason Kidd, Amar'e Stoudemire or Steve Novak. He just wants the win. That type of thing is said a lot. But with Chandler, there has been zero indication that he feels anything but that.
He's pretty authentic.
Last year, you could tell Chandler loved Linsanity. Jeremy Lin lobbed it to him like Chris Paul used to, and the Knicks were surging with a great team concept. Chandler was always one of the first to congratulate Lin. But that was last year.
This year, the Knicks have gone for the kind of veteran approach that worked well for Chandler in Dallas. And, in the midst of all the continuing controversy over the decision to let Lin walk to Houston, Chandler has come out in support of the decisions, most notably, with some criticism of Lin this week. From Newsday:
"Baron was hurt the whole year and giving us everything he had. Jeremy was a young point guard who was inexperienced, who brought a great light to the organization. But as far as being able to run the offense and putting players in the right position, he just wasnt there. We got some veteran point guards that are capable of doing that."
via Tyson Chandler likes Knicks' additions at point guard.
Not exactly stinging criticism. Lin would most likely agree with the assessment, as he has always been his harshest critic, at least publicly. Lin never pretended or assumed he was an All-Star and admitted when he struggled.
And, indeed, he did struggle after that initial incredible two weeks. Teams began to trap him harder on the pick and roll, to attack his dribble more, to move him away from his spots. The Knicks won't have that problem this year because the point guards on roster will only do what they know they're capable of.
But they also won't have the explosiveness, the determination or the playmaking ability. Lin, quite simply, was electric. It wasn't all narrative and show. He genuinely did make plays that a lot of guys are unwilling or unable to make because of the calculated risk. And the result was a Knicks offense that really clicked for the first time since 2009.
Maybe it was all for the best and Felton and Kidd will take them where they want to go. But the odds are much higher that Chandler will remember playing with Lin in New York more than he will Felton and even Kidd.