Rondo says this year's Celtics team their 'best shot'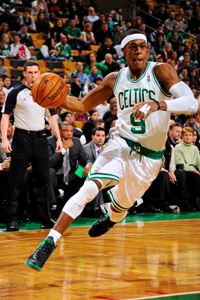 Rondo's ready to drive for Banner No.18. (Getty Images)
Rajon Rondo has been on a title-contending team all but one year of his career. His role on the 2008 championship team with Boston wasn't huge, but he was part of the fabric. Since then he's evolved into the team's leader and best player while the Big 3 aged (and then Ray Allen left).
But year after year with Rondo as the head of the snake (or whatever), the Celtics have come up short. This year they have veterans, Hall of Famers, bench firepower, defensive stoppers, young athletic players and, of course, Rondo. So how does this year compare with other years in terms of the Celtics as contenders?
"I think it's our best shot," Rondo said. "Not to discredit the 2008 (championship) team that we had, but if this team buys into the system and listens to (coach) Doc (Rivers), the sky is the limit. The championship could be ours. Not a lot of teams can say they can compete for a championship each year, and definitely this year with the talent we have, that's our one goal."
via Italian fans get their Irish up for visitors - BostonHerald.com.
Every year a player says this is his team's best shot. Honesty about expectations is unheard of in sports. But Rondo's also known for being as candid as he is acerbic.
The biggest thing this says is that Rondo realizes how flawed the 2009-10 team that made the Finals after a horrible second half of the season was, as well as last year's Eastern Conference finals team. It says a lot that those teams weren't as good as they finished, and yet wound up coming that close to a title.
Are they really that much stronger this season? Is Jason Terry that much of an upgrade over Ray Allen? Is Jeff Green really going to make the leap? Can Paul Pierce and Kevin Garnett hold onto their skills against the decline of age, while Rondo tries to get a team with so many new players on the same page in a tougher Eastern Conference?
It's really tempting to say no. But daring Rondo is never a good idea.