Dirk Nowitzki is battling knee trouble already this season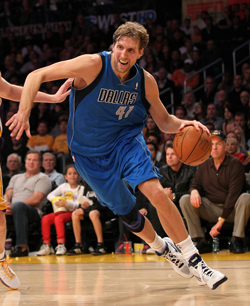 Dirk Nowitzki's knee isn't being kind to him already.
(Getty Images)
It's basketball season! You know how I know? Because Dirk Nowitzki's knee already is sore.
Via ESPNDallas, Nowitzki sat out the Mavericks' preseason game against FC Barcelona Regal because of a sore right knee, a nagging injury that bothered him for most of last season.
Naturally, Nowitzki is somewhat concerned.
"There was some swelling again, so I think right now in the preseason it's not the time to play on a swollen knee," Nowitzki told reporters. "Hopefully it's just a reaction to running and jumping. We'll see how it responds."
"Scared is a strong word," he said. "Obviously, it's unfortunate. Last year, we dealt with it. Hopefully, it'll respond here in the next week or so, and I'll play throughout the whole season.
"The good thing, or different thing, this year is that my legs are actually pretty strong. I lifted all through the summer. So hopefully this is just temporary."
Obviously wth it being a mere preseason game, there's no reason to push anything. No big reason to sound the alarm. Still, it has to be at least mildly upsetting that the knee flared up after a little bit of training camp. Which means this could be something Nowitzki deals with for most of the season.
Question is, is surgery an option?
"We'll see how it responds," Dirk said, via the Dallas Morning-News. "But the longer we wait, obviously the worse it is. If we have to do something, it'd be better to do it quick.
"But we're still hopeful that this is a temporary thing. If we relax and rest it for a week and see how it goes, then we'll have a better idea."
Nowitzki turned 34 over the summer and has steadily started battling against more health issues as he's aged. It's not something unique or unexpected; more just a friendly reminder that he isn't a young man anymore and that he's going to have to play it safe with the knee.
Last season, Nowitzki entered camp with the knee hampering him and it took months for him to get it completely healthy, or so he thought. Granted, that was in a condensed schedule, so he'll have a little more time to rest it this year. But don't be surprised if Dirk starts sitting some back-to-backs or takes a two-week rest in the middle of the year.