Jimmer Fredette is going to try to play defense now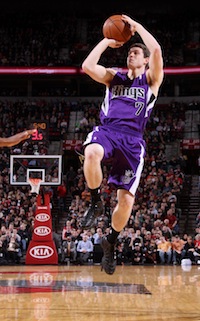 Jimmer Fredette wants to play a little defense this year.
(Getty Images
Jimmer can shoot. Jimmer can slash. Jimmer can score.
Jimmer can't play defense.
During his first NBA season, Jimmer Fredette showed flashes of the offensive brilliance he consistently displayed at BYU. But with the Kings (who ranked dead last in the league last season in team defense), it was a challenge for Fredette to stay on the floor because, well, he doesn't play defense.
And it's something he's trying to focus more on now.
"I want to be able to stay on the floor as much as I can," Fredette said, via the Sac Bee. "And to be able to do that for coach [Keith] Smart, you've got to play defense and be in the right spot at the right time. I think I can do that."
Fredette's defense could probably have been more forgiven if he'd consistently produced on the offensive end. But he lacked overall aggression, something he wants to do offensively as much as defensively.
"It's OK -– you can be aggressive (in the NBA), especially in the paint," Fredette said. "You can try to stay in front of guys and body them up a little bit. And you get six fouls here. So you've got to use your fouls wisely and be aggressive and try not to let them get by you."
Watching Fredette at BYU, it was pretty clear what his defensive role was -- stay out of the way. The Cougars played a 2-3 zone, and mostly Jimmer's job was just hovering at the top of the key and sort of getting in people's way. He was essentially BYU's offense, so foul trouble for him could be devastating. He picked up some bad tendencies and has had to figure out how to commit himself defensively.
In his rookie season, he wasn't the offensive dynamo he was in college. Again, at times, he showed of that limitless range and incredible knack for getting to the rim. But it wasn't enough to give him a hall pass on defense.
He only averaged 18 minutes a game last season, which can make it tough for a scorer to find any kind of rhythm (he also was trying to find a way to fit with DeMarcus Cousins and Tyreke Evans, not an easy task). If he wants to be on the floor long enough to get his offense going, he's going to have to start playing on the other end -- something he seems to get.