Eddy Curry waived by the Spurs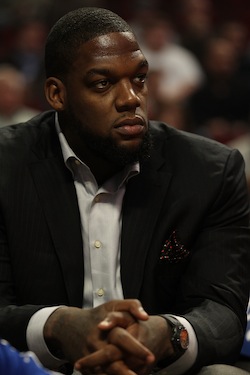 Eddie Curry was close, but didn't make the Spurs.
(Getty Images)
The latest second chance in a long line of second chances for Eddy Curry is dead.
The Spurs announced Tuesday they have waived Curry (along with Derrick Brown). Curry appeared in five preseason games for San Antonio, averaging 8.4 points and 3.6 rebounds per game in 15.4 minutes.
After coming off a championship with the Heat in which he couldn't find court time with a team in desperate need of big men, Curry hooked on with the Spurs, another team looking for size inside. He came into camp in great shape (for him) and looked fairly productive during his preseason appearances.
There was a feeling that Curry had a solid shot at making the team. He said this a week ago:
"I feel I'm in a good situation," Curry told the San Antonio Express-News. "I worked hard this summer. Every game it's just about showing everybody what I can do. I'm trying to focus on defense and rebounding, trying to play in the system and soak up as much as I can. I think I'm going to make it. Until they tell me I'm not, I feel like I'm part of this team."
Unfortunately, the Spurs felt that Curry wasn't going to be part of their plan and decided to send the big man back into NBA purgatory. Who knows what's next for Curry, but he always seems to find a new opportunity and with the way he looked in camp, you can be sure someone else is probably going to give him a shot.