2012-13 EOB NBA Division Previews: Southwest Division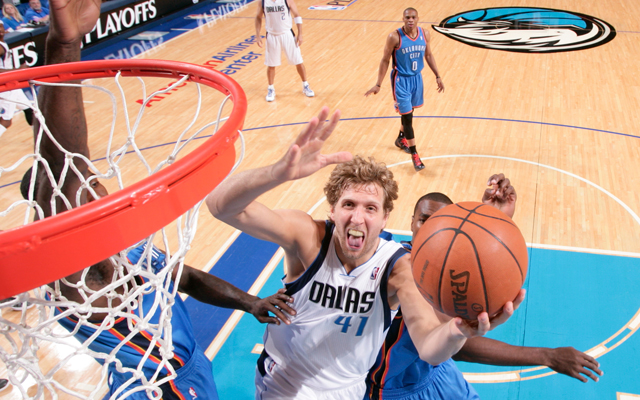 Which way are the Mavericks headed this season?
(Getty Images)
M-W-F for the next two weeks we'll be previewing the 2012-13 season, division by division. Today it's the Southwest Division. Enjoy. For the rest of our previews, click here.
Cream of the crop: San Antonio Spurs. We keep writing them off and they just keep on coming back. Stronger and stronger and stronger.
The window has supposedly been closing for the last five seasons for the Spurs. And all they've done is reinvent themselves as the zombie team that will never die. They were once an inside team built around Tim Duncan. They've evolved, adapted and adjusted. Now, they spread the floor as beautifully as any team in the league, utilizing all five players on the court and making everyone a weapon. Also-ran players like Danny Green, Boris Diaw and Matt Bonner become lethal, because Gregg Popovich places them strategically in a system and roles where they can succeed. It's incredible, really.
At some point, the Spurs will have to come down. It will happen. One day. Many felt it was going to be last season because of the lockout-condensed schedule and San Antonio's advanced age. Instead, the Spurs won 20 consecutive games and went nearly 60 days without a loss. Save for the Oklahoma City Thunder finding another level, the Spurs might've been cruising toward yet another title.
The Spurs have transitioned into running more as well as turning over the primary reins to Tony Parker, someone who really had an MVP-caliber season last year. They've retooled and restocked again and are primed to make another run at the West's top spot. The San Antonio Spurs: The Team That Lived.
Sitting Pretty: Memphis Grizzlies. For now, the Grizzlies are fine. But this might be their last real opportunity to do something.
Last season the Grizzlies became an ultra-trendy pick in the West after their strong run in the 2011 postseason. Injuries and disappointing performances brought them down, but still they had home court in the opening round of the postseason and a chance to match up with the Spurs in the second round, a team they appeared poised to handle.
Instead, they blew Game 1 against the Clippers and choked away Game 7 on their home floor. They've made minor tweaks to the roster, losing their only real outside threat in O.J. Mayo, but have strengthened other areas.
They'll flirt with 50 wins and they'll likely finish as a top-six seed. But this season might be it for them. Zach Randolph is aging and if the roster doesn't make a serious jump, big changes could be coming.

On the cliff: Dallas Mavericks. What was supposed to be an offseason coronation for the Mavs turned into one big scramble. After dismantling their championship roster and basically going into a holding pattern to make a play for Deron Williams and possibly Dwight Howard, the Mavs struck out completely and were left hat in hand, searching for talent.
They were at a crossroads: Either blow it apart and start a rebuild, or try and piece together enough to make a contender. And all things considered, they did a pretty nice job. Elton Brand, great addition. Chris Kaman, an upgrade at that position. O.J. Mayo, nice signing. Darren Collison, an intriguing replacement for the aging Jason Kidd.
But there's no denying the Mavs will miss Jason Terry's swagger, in the same way they missed Tyson Chandler's defense and J.J. Barea's spark last season. Not to mention Dirk Nowitzki's balky knee is already acting up and likely to force him to miss games.
It seems crazy to question the Mavericks' postseason credentials. This is a perennial playoff bunch and with a healthy Nowitzki anchoring them, should be able to return. But unless Dirk finds another level, they aren't making a title run. This is still a group on the fringes of a rebuild, or holding their breath for a free-agency bonanza.

Waiting in the tall grass: New Orleans Hornets. The question is, how much offense can the rebuilt Hornets produce? And how much will their youth turn them around?
There's no question the Hornets are heading in the right direction post-CP3. Landing Anthony Davis is a wonderful start to a turnaround. Add Austin Rivers and the long-term signing of Eric Gordon and there's a strong nucleus in place.
It's hard to figure how good the Hornets will be just because rookies are so hard to peg. I honestly think this could be a darkhorse team for 40 wins if things pan out. But they also could find themselves back in the high lottery as well. There are a lot of factors at play and even if they struggle to win 25 games, there's a strong sense of direction with the team and a very solid foundation to build on. If it's not this season, or even next for the Hornets, it will be sometime in the future.

Dead Meat: Houston Rockets. What exactly is the direction here? When Houston stockpiled picks prior to the draft, the consensus was they would be used in a robust package for a star player or to move up in the lottery. Instead, the Rockets almost relunctantly used all three picks themselves, adding a trio of rookies to go along with an underwhelming offseason class of Jeremy Lin and Omer Asik.
And not only that, the Rockets were forced to use their amnesty provision on Luis Scola as part of their wild goose chase for Howard.
There's still some potential there with Kevin Martin, Chandler Parsons and the rookies. But more than likely the Rockets aren't done dealing and will probably look to move major pieces around if they don't get off to a solid start. Which doesn't appear likely unless Linsanity reaches a new level in Houston.
They might not finish last in the division, but a direction is lacking, which is unsettling.

Division MVP: Parker has not only become the Spurs' alpha, but he's quietly established himself as a true MVP dark horse league-wide. He's the engine to the Spurs' scary offensive juggernaut. San Antonio was only slowed by OKC in the Western finals when Parker struggled offensively.
Nowitzki remains the division's best overall talent, but with injury issues and a meh supporting cast, Parker is the class of the Southwest.

Division ROY: Do you really need a paragraph of me explaining to you why Davis is better than all the other rookies in the Southwest? No. No, you don't.

Projected finish:
1. San Antonio Spurs: 53-29
2. Dallas Mavericks: 48-34
3. Memphis Grizzlies: 46-36
4. Houston Rockets: 25-57
5. New Orleans Hornets: 22-60