Manu Ginobili ruled out for Spurs' season opener Wednesday vs. Hornets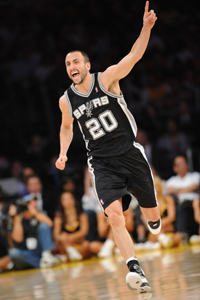 One more go for Ginobili? (US Presswire)
Not the start San Antonio wanted. Manu Ginobili has battled a variety of ailments the past two years that have put him on the shelf for different spans. Now he begins the season with a particularly worrisome one considering his age. The San Antonio Express-News reports that Ginobili will miss the season opener at New Orleans on Wednesday night with a back issue that continues to plague him.
"He's not going to travel to New Orleans and we're going to assess him again on Thursday," Popovich said of the 35-year-old two-time All-Star. "He still feels his back. He tried to get on the court today and he couldn't do it."
(via Spurs Nation » Ginobili ruled out of Spurs season opener against Hornets)
The Spurs have hardly missed a beat the past two seasons during Ginobili's absences, but it's still concerning. Back issues can have corollary issues. Worse still, they tend to nag throughout the season. You'd feel better if he were 23.
The Spurs were planning on leaning on Kawhi Leonard and Danny Green significantly more this season, anyway. Now it appears as if at least on opening night, they'll be wholly investing in that plan. We'll keep you updated on Ginobili's condition.
Earlier this month, Ginobili hinted that he might already be thinking about retirement.