Matt Barnes suspended for pleading no contest in California state court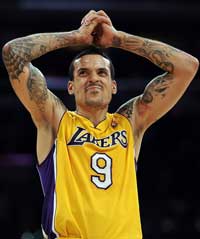 Matt Barnes will miss the season opener. (Getty Images)
The NBA announced Tuesday:
Los Angeles Clippers guard Matt Barnes has been suspended without pay for one game for pleading nolo contendere, in California state court, to resisting, delaying or obstructing an officer in the discharge of his duties, the NBA announced today.

Barnes will sit out the first game of the 2012-13 NBA regular season for which he is eligible and physically able to play.
Barnes was arrested and released on $51,000 bail this summer for the incident, which occurred when he was a free agent.
Barnes is part of a deep veteran wing core who all are injured. Chauncey Billups, Lamar Odom and Grant Hill have all had problems getting on the floor, and now Barnes will be absent. Odom has told reporters that he plans to play in the Clippers' season opener against the Grizzlies on Wednesday. But for a team that loaded on depth, they keep finding ways to have problems in that department.
Barnes, 32, averaged 7.8 points, 5.5 rebounds and 2.0 assists in 22.9 minutes per game last season for the Lakers.