Bobcats' Rod Higgins, Pacers' D.J. Augustin hilariously feuding over extension rejection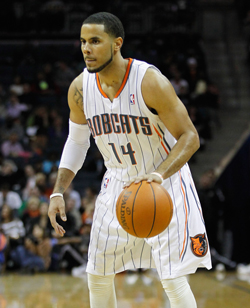 D.J. Augustin turned down what?
(Getty Images)
Sometimes you hear about an athlete turning down a contract extension because he feels he's worth more money than they're offering, and you scratch your head in confusion. There isn't a set price tag on getting most players' services on your team. It's a relatively open market within the market of the NBA, so you can always be surprised by a final contract figure.
With a player like D.J. Augustin of the Indiana Pacers, you would think that the player and his agent would have instantly jumped on any contract extension offered. Well, it's time to start scratching your head (Via Charlotte.com):
"I'm not going to go into specifics, but we offered him more than he signed for in Indiana,'' Higgins told the Observer at Friday shootaround. "I don't think it would be appropriate to comment further than that.''
That's head of Bobcats basketball operations Rod Higgins reacting to recent comments by Augustin saying, "I never felt like I was secure here. That's just how I felt. They didn't talk to me about anything. I guess that's how they do things."
Apparently the Bobcats offered Augustin a contract extension last season -- and someone on his side of the negotiations turned it down. Augustin was coming off his best season in which he averaged 14.4 points, 6.1 assists, shot 41.6 percent from the field and 33.3 percent from the 3-point line. He had a PER of 15.9 and a WS/48 of .108.
That guy turned down a contract extension. I'm thoroughly confused. I guess he felt he had turned a corner in his career was headed upward. And it's hard to fault an athlete for believing in himself and thinking he's going to continue to get better. However, Augustin followed that up with a dreadful season on the worst team in NBA history.
If the Charlotte Bobcats offered him a contract extension when he hadn't separated himself from other members at his position in any positive way, I'm pretty surprised he would feel like he had no idea where he stood with the franchise. You weren't very good and the team still wanted to make a long-term commitment to you? That sounds like you're in a pretty decent standing to me.
I'm sure there is a lot more to this story on both sides of the issue, but I was shocked when I found out a) someone offered Augustin an extension and b) he turned it down.