Dwyane Wade says Heat-Knicks game should be postponed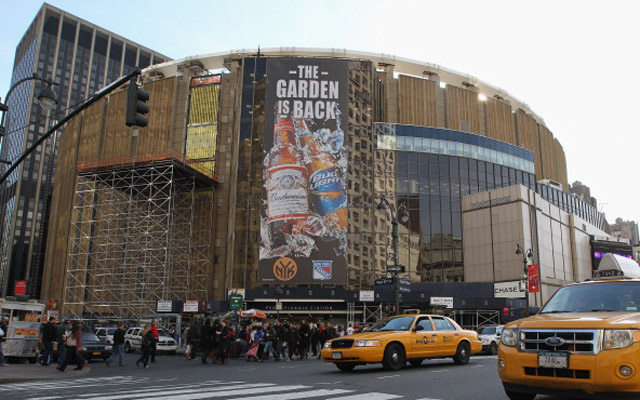 The Garden will be open Friday night.
(Getty Images)
Dwyane Wade said Friday that if it were up to him, the Heat-Knicks game at Madison Square Garden on Friday night would be postponed in the aftermath of superstorm Sandy.
"I don't think we should be playing tonight," he said following Friday's morning shootaround. "There are bigger things, things of more importance, in this city right now.

"Obviously, sports are something that takes peoples' minds away from things but I think there are bigger things that need to be done here in the city."

But having arrived, he added, "Hopefully we can give someone a different perspective."
(via Miami Heat, Dwyane Wade, LeBron James, Chris Bosh discuss game against New York Knicks in wake of hurricane. - South Florida Sun-Sentinel.com)
Wade also tweeted about the traffic but later said he was trying to explain that he didn't think the game should be held because of the conditions of the city.
I luv playing in the garden but cnt do nothing but think abt all the families that dont have power,food,water ... m.tmi.me/yKehf

— Way of WADE (@DwyaneWade) November 2, 2012
2 be clear "Traffic tweet was meant 2 say"... We shouldn't B hre 2 play a basketball game when theirs so many ... m.tmi.me/yKfLz

— Way of WADE (@DwyaneWade) November 2, 2012
The NBA postponed the Nets' season opener vs. the Knicks at Barclays on Thursday night in the wake of the storm, which left millions without power and cost billions of dollars in property damage. The league has decided not to postpone Heat-Knicks, obviously.
The death toll has risen to 87 across nine states.
Knicks fans on Twitter have expressed both sides, with some saying they welcome a respite from the carnage the storm has wreaked upon their lives, and others questioning if it's appropriate or if efforts would be better spent focusing on cleanup.
Wade told USA Today he plans to donate his paycheck for the game to relief efforts:
Wade plans to donate his pay from Friday's game – approximately $210,000 before taxes – to charity, and said he and his teammates are looking for the right charitable organization.

"The money I make tonight can be left for a good cause," he said. "I know a lot of people here. Knowing the things they have been through, it's just mind-boggling. Miami is a place that is affected by hurricanes all the time so I know how the community can be impacted by it. It's tough."
(via Wade says postpone Knicks game; donates to Sandy victims)