Hedo Turkoglu suffers broken hand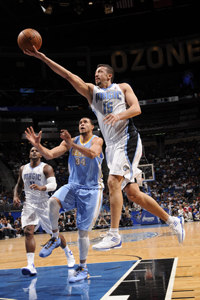 Hedo broke his hand Friday.
(Getty Images)
The Magic had a great start to their season, blowing out the Nuggets at home, and getting ridiculous offensive performances by players who should not have unbelievable offensive performances. But there was a cost, as Hedo Turkoglu broke his hand in the third quarter.
Turkoglu is primarily a contract the Magic are waiting to expire at this point, but since they dont' have much depth anyway, this will only make things more difficult.
Considering the Magic's need to play their younger forwards, the Magic can survive this. And hey, if they play like this every night, they'll be in a position where their games actually matter.