Nets' Gerald Wallace out Monday vs. Timberwolves with ankle sprain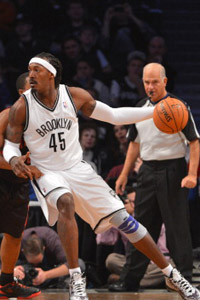 Wallace is out Monday night.
(Getty Images)
Gerald Wallace suffered an ankle sprain against the Raptors in the Nets' home debut on Saturday night. He's been ruled out for Monday's game against the Timberwolves. Keith Bogans will start in his place.
That's a pretty steep drop for a team with so much talent, but remember that Bogans played exceptionally well two years ago for the Bulls in a starting role at the shooting guard position, and Joe Johnson will likely take the toughest perimeter cover with Wallace out.
X-Rays were negative, which is the important part for Wallace. The Nets have had a really strong start after having their season opener vs. New York postponed due to Superstorm Sandy.
In the meantime, they've handled two weak opponents, with a third, the Kevin-Love-less Wolves, coming up Monday night.
But things get significantly tougher on Wednesday against the Miami Heat and, with Wallace a question mark for that game as well, it could be a tough night for the Nets' wing defenders.