Oddsmakers make Mike D'Antoni, Jerry Sloan the favorites for Lakers job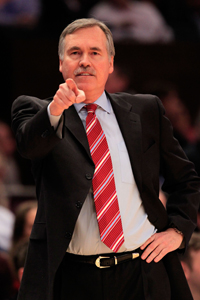 Odds point to D'Antoni for the Lakers job.
(Getty Images)
The odds are out in the wake of the Lakers' firing of Mike Brown, and the stache and the legend are in the lead. Bovada.lv released their odds Friday night on who the next coach of the Lakers would be, with current interim coach Bernie Bickerstaff only an 8-1 favorite to get the gig. The leaders of the pack? Mike D'Antoni and Jerry Sloan.
Who will be the next full-time Head Coach of the Los Angeles Lakers?

Mike D'Antoni 2-1
Jerry Sloan 2-1
Phil Jackson 5-1
Brian Shaw 5-1
Nate McMillan 6-1
Bernie Bickerstaff 8-1
Phil Jackson at 5-1 is a pretty sweet one. Nate McMillan being close behind is nice, too. Brian Shaw is under contract with the Pacers and Mitch Kupchak said at his presser Friday that the team would not look for a coach under contract. Then again, the Lakers gave Mike Brown a vote of confidence this week, so, you know.
The more interesting number, though? The Lakers' over/under has plummeted.
Total regular-season wins for the Los Angeles Lakers
Over/Under 49.5
That's a 10-win drop from where they were less than a month ago. The confidence in Bickerstaff to take over is obviously low, as is the idea of a new coach taking over and getting them out of the 1-4 hole to 60 wins. But consider they're still listed for 50 wins, not exactly an easy feat. Only the Lakers could fire their coach, have no replacement lined up, and stay above 50 wins over/under.