NBA Nightly Grades: King James on parade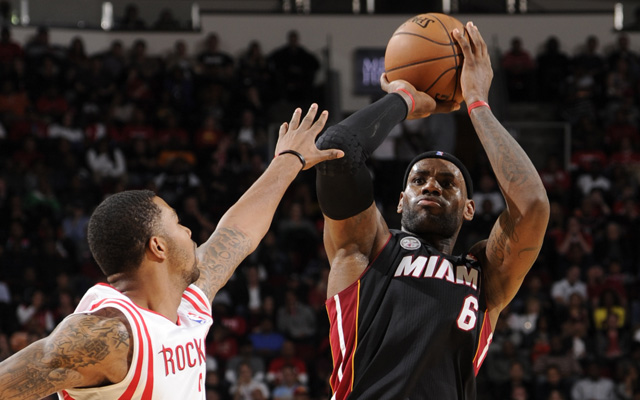 James was in rare form Monday night.
(Getty Images)
Each night, Eye on Basketball brings you what you need to know about the games of the NBA. From great performances to terrible clock management the report card evaluates and eviscerates the good, the bad, and the ugly from the night that was.



LeBron James
32 points in the second-half including the layup to take the lead and 8 of their last ten points. James was a monster late after a slow start, and finished with 38 points, 10 rebounds, and 6 assists. Oh, and he defended James Harden on the potential game-winning miss for the Rockets. All in a night's work.
Boston Celtics
Finally, the Celtics start to look like themselves. Against Chicago who had been playing very strong basketball, the Celtics put a clamp defensively. Kevin Garnett was just an absolute beast, and the defense held Chicago to a 101.5 defensive rating. Not superb, but enough for their explosive offense to get the job done.

Boston's starters outscored the Bulls by nearly .4 points per possesion and held the Bulls to just 38 percent shooting. A huge win for a team that needed it.
Minnesota Timberwolves
Six of the top seven players for the Timberwolves were out for most of the second half against the very spry Mavericks. Ricky Rubio, Kevin Love, Brandon Roy, Jose Juan Barea, Nikola Pekovic, Chase Budinger. And they still took out the Mavs. It was an incredible performance for a team that simply will not surrender to anyone.
Denver Nuggets
They ran out of legs, which was pretty obvious after a double-overtime game two nights ago vs. Golden State, and in the midst of a long road trip in a brutal start to the season. But their defense against a very mediocre Phoenix game left a win on the table. They were slow to rotate, slow to contest, and overwhelmed at both ends. Denver has too tough a schedule to let games like this slip.
NBA Basketball
A triple-overtime thriller between the Jazz and Raptors where Al Jefferson pushed 3OT with a three of all things, Milwaukee winning a tough one over Philadelphia, Houston-Miami down to the wire with heroics and pain on both sides, Chicago and Boston in a dogfight, the Thunder needing a huge rally and a Westbrook offensive rebound to close out Detroit, and the Wolves' heroic effort. It was an incredible night of games in the A.