Mavericks' Dirk Nowitzki not recovering quickly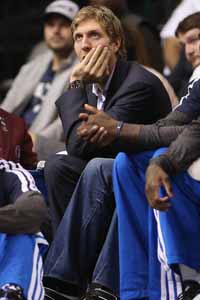 Dirk won't be back soon.
(Getty Images)
It's not that Dirk Nowitzki's super-behind. It's that he's definitely not ahead, and it's starting to frustrate him as he tries to recover from knee surgery.
"When it originally hurt, three to six weeks, in my mind, I'm thinking in two weeks, I'm back," said Nowitzki, who has returned quickly from several ankle sprains during his 14-year career. "But unfortunately, this is not how it happens. It's my first knee surgery of my career and unfortunately this stuff takes a little longer than we expected.

"So I've just got to be patient and do the smart thing and keep working."

"Gotta admit, I'm really already getting tired of rehab these three weeks," Nowitzki said. "It's been three weeks. Obviously, that's a long time for me watching. So I'm really getting tired and bored of it. But at this point, gotta stay patient and do what the doctors and trainers tell me, just keep rehabbing and see how much longer it is."
(via Dirk Nowitzki of Dallas Mavericks says rehab not progressing as quickly as hoped - ESPN Dallas)
None of this is good news, and it could result in Nowitzki being out longer than expected. The Mavs have managed to stay afloat somewhat but the wheels have fallen off in the last week, no more so than in their loss to the six-players-down Timberwolves Monday night.
Nowitzki can't rush back. And honestly, his body has never been the same since the Finals. He celebrated (as he should) afterward, then the lockout messed with his timetable, he missed weeks trying to get back in shape, then struggled with the knee for a full year. It's just not bouncing back.
The Mavericks are in a dangerous situation, and all they can do is hope for the best.