Mike D'Antoni was surprised the Lakers hired Mike D'Antoni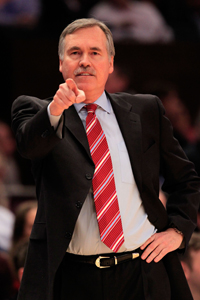 Mike D'Antoni is excited, but a little surprised with his new job.
(Getty Images)
Upon hearing he was the new coach of the Los Angeles Lakers, Mike D'Antoni had an interesting reaction.
Just like everyone else, he thought the job was going to Phil Jackson.
"Sure I did," he told the New York Daily News. "For sure I did. Didn't everybody? When I got the call that it was me, my first reaction was, 'Are you serious?'"
So tally up those shocked by the move and you have D'Antoni, Jackson himself who was said to be "stunned," and pretty much everyone not named Mitch Kupchak or with the last name Buss.
But D'Antoni obviously was thrilled to get the call. He interviewed via telephone on Saturday, but he had to have some inkling he was a serious candidate regardless of what Jackson decided. It was just a matter of Jackson accepting or passing -- or so everyone thought.
"Sometimes you have to be lucky," D'Antoni told the Daily News. "Lucky or even blessed. I look back over my career, just what I've been able to do so far, and feel like nobody has been more blessed than I've been. Now this happens and I look at myself and I really do say, 'Are you kidding me? I get to come back and coach these guys?'"
It's an incredible opportunity for him after his last gig ended in New York with him resigning after conflicts with star Carmelo Anthony. His team didn't win and he didn't seem to fit. The question is if there will be a similar result in L.A. or if D'Antoni fits better with the Lakers.
One reason to assume he fits? He's back with his good buddy Steve Nash.
"I am so happy to be back with Steve," D'Antoni told the Daily News. "To get one more chance to have him run the thing the way he did for me before (in Phoenix), well, that's the kind of thing you never think is going to happen. But now it has."