Hornets trade Hakim Warrick to Charlotte for Matt Carroll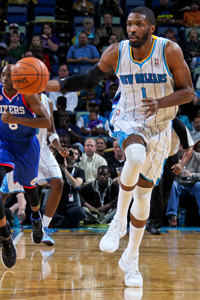 The one existing picture of Hakim Warrick playing for the Hornets.
(Getty Images)
Sometimes you have trades like the James Harden blockbuster.
And then sometimes you have deals like the one the Hornets and Bobcats completed Tuesday.
The teams announced a deal that has New Orleans sending Hakim Warrick to Charlotte for Matt Carroll.
"Hakim has been the ultimate professional while in New Orleans, even while receiving limited minutes, and we wish him the best in his new opportunity," Hornets general manager Dell Demps said in a release.
Carroll is a 6-6 shooting guard in his 10th season holding career averages of 6.6 points and 1.9 rebounds in 459 games. Warrick is a 6-9 forward from Syracuse; he was selected 19th overall by the Grizzlies in 2005. He's played for five teams in eight seasons (Grizzlies, Suns, Bucks, Bulls and Hornets) recording career averages of 9.5 points and 4.1 rebounds in 499 appearances.
Why did the teams make this trade? The Bobcats need a bit more frontcourt depth behind Bismack Biyombo, Byron Mullens and Tyrus Thomas while the Hornets didn't have any need for Warrick, who had only appeared in one game for them. And with Eric Gordon's iffy injury situation, adding Carroll provides a bit of depth in the backcourt.
Warrick's contract expires this year with a team option for 2013-14 while Carroll is an unrestricted free agent after this season. So it wasn't financially motivated.
So who won this trade? Nobody, that's who.