Nightly Grades 11.13.12: The Bobcats don't appear to be terrible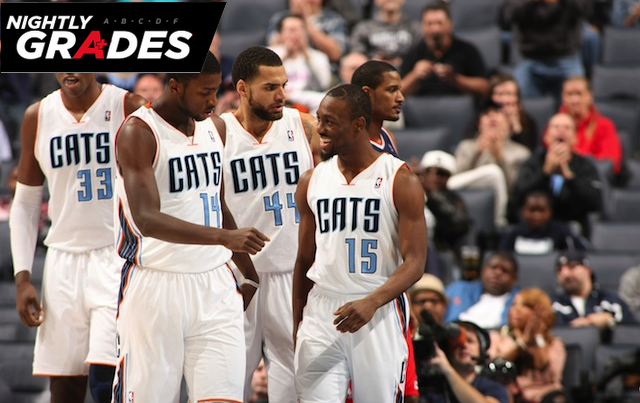 The Bobcats are .500. Say that to yourself out loud.
(Getty Images)
Each night, Eye on Basketball brings you what you need to know about the games of the NBA. From great performances to terrible clock management the report card evaluates and eviscerates the good, the bad, and the ugly from the night that was.

Charlotte Bobcats

The Charlotte Bobcats are 3-3. The Charlotte Bobcats... are 3-and-3. Last season it took them 13 games to win three, this season, six. That's improvement right there. They're clearly buying what new coach Mike Dunlap is selling and their young players are performing. Michael Kidd-Gilchrist had another solid game and Kemba Walker appears to be developing into quite a good point guard.

Can they keep it up and win 25, which would be a nice achievement? We'll see, but one thing's for sure: They're not a complete joke anymore, which is a nice step in the right direction.


San Antonio Spurs

They won on the road against the Lakers to go to 7-1. Ho. Hum.

New York Knicks
The first 5-0 start since 1993. I don't really know if we should be impressed or sad about that, but the fact is, the Knicks are the only undefeated team remaining in the league and they're playing good basketball.

Kobe Bryant
The Lakers lost and he didn't get to take the last shot, one that Pau Gasol missed meaning the Lakers lost. But Kobe was simply terrific. He scored 28 on 12-19 shooting and added eight assists for good measure. While the Lakers have been smoldering a bit, Kobe has been outstanding and Tuesday was no exception.

Anderson Varejao and Kyrie Irving
The Cavs lost, but Varejao put up 35 points and 18 rebounds while Irving added 34 and eight assists. The rest of the team though? Just 32 points total. Let me be the one to point out that 32 is neither as great as 35 or 34.
The Raptors fourth quarter
The Raptors beat the Pacers 74-72. That's the good news. The bad news? They scored five points -- FIVE -- in the fourth quarter. Total. And they won. The only thing worse than that is the Pacers because they're the team that lost that game.
Washington Wizards
Now 0-6 after losing to the Bobcats. When is the turnaround coming for this team? Changes were promised, a new culture was supposed to make things different. Instead, they just as bad but not nearly as interesting.