Nightly Grades: Clippers still rolling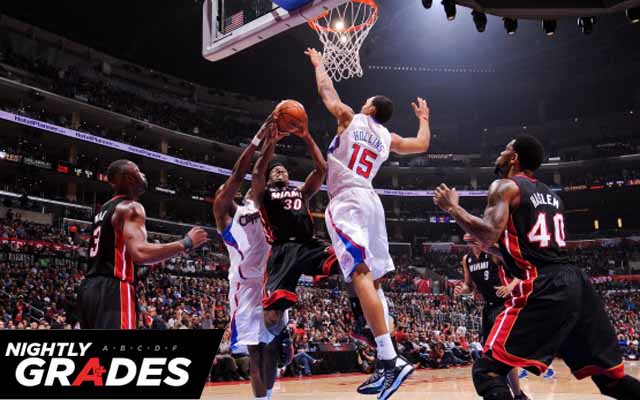 The Clippers dominated the Heat in the second half Wednesday.
(Getty Images)
Each night, Eye on Basketball brings you what you need to know about the games of the NBA. From great performances to terrible clock management the report card evaluates and eviscerates the good, the bad, and the ugly from the night that was.



| | | |
| --- | --- | --- |
| | Los Angeles Clippers | It was an onslaught from all angles by the Clippers. LA's other team isnt just winning in one way, it's winning in every way. Bench depth. Starters making big plays. Chris Paul leading the way. Blake Griffin exploding athletically. Jamal Crawford crossing everything over. This is a fantastic team that may have the strongest team identity in the league. |
| | Memphis Grizzlies | If Rudy Gay is going to bring this level of his game, then were going to have to re-evaluate how good Memphis can be. A road win, in Loud City, and the Grizzlies are off to their best start in franchise history. They have consistent play from their starters, a bench that can score, and the same tenacous defense. Also, Zach Randolph is not a man to bluff at. |
| | Detroit Pistons | Golf clap for Detroit, they're off the snide. |
| | Miami Defense | Well, they give up perimeter penetration to anyone with legs, but that's OK because at least they're terrible at closing out on shooters right now. |
| | Charlotte Bobcats | Break them up! Break up those Bobcats! Three in a row, and Mike Dunlap is doing something incredible with a team of mostly misfit toys. |
| | Beardsanity | It's back! Harden scores 30 as the Rockets get right vs. the Hornets. |