Mike D'Antoni to coach Lakers practice Thursday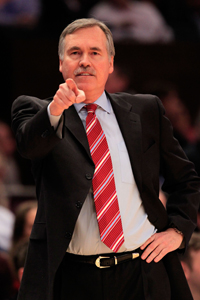 Mike D'Antoni will be the Lakers next coach. (Getty Images)
Mike D'Antoni takes the reins for the NBA's flagship franchise on Thursday.
D'Antoni will meet the media as the head coach of the Los Angeles Lakers Thursday afternoon after practice, and he won't be coming in completely green. The Los Angeles Times reports that D'Antoni intends to run practice Thursday before taking on the hordes in the press conference.
Mike D'Antoni landed in Los Angeles on Wednesday, settling in at an undisclosed hotel and taking a meeting with Lakers General Manager Mitch Kupchak.

Its a little backward to accept a three-year, $12-million job before sitting down with your bosses, but that's what happens when you're laid up in New York because of recent knee-replacement surgery.

The new Lakers coach has some busy days ahead. He will conduct his first practice with the team Thursday and also be formally introduced at a news conference in the afternoon. He will probably not coach against Phoenix on Friday, instead making his Lakers debut Sunday against Houston.
via Mike DAntoni arrives in L.A. to take over as Lakers coach - latimes.com.
It's good for D'Antoni to get his feet wet. He needs to get an idea of what he's got and get the whistle back around his neck after being away from the game for almost a year.
Meanwhile, the outrage continues over the Lakers' decision to hire D'Antoni and not Phil Jackosn. If D'Antoni is going to change the perceptions of people about him, starting in practice which allows him to be tough but fair isn't a bad first step.
We'll see how it goes with this circus act that never seems to end.