LeBron James, Dwyane Wade questionable Saturday night for Heat vs. Phoenix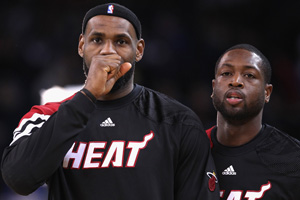 Wade and James are questionable Saturday night.
(Getty Images)
ESPN reports that the Miami Heat could be without both LeBron James and Dwyane Wade against the Phoenix Suns on Saturday night.
James will be a game-time decision Saturday night due to an illness. The Heat are also expected to be without Wade because of a foot sprain.

James tweeted overnight that he'd caught a bug that has been going through the Heat team.
(via Ill LeBron James, injured Dwyane Wade in doubt for Miami Heat vs. Phoenix Suns - ESPN)
The Heat are in the middle of a six-game road-trip, having just finished a back-to-back that started with a late-night loss to the Clippers that saw them land in Denver at 4:30 a.m. before outhustling Denver for a 98-93 win in the second game. Most of the players were dead tired by that point, and that's before you consider the illness.
Wade hasn't looked right since the start of the season, and Heat coach Erik Spoelstra described him as having a series of nagging injuries that together had limited him, in addition to the sprained foot.
The Suns are on a back-to-back of their own, after losing to the Lakers on Friday night in Los Angeles.