Clippers show Spurs they're not the same pushover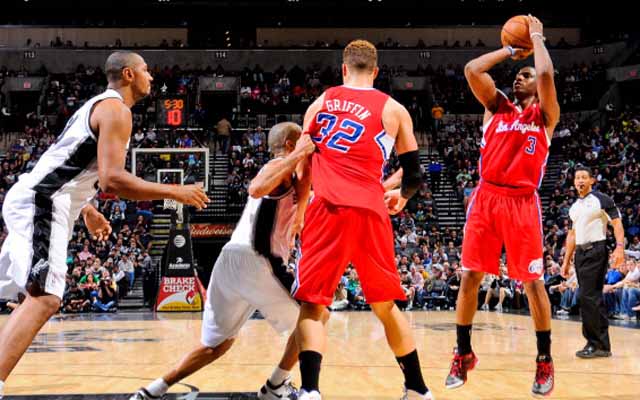 The Clippers took another big game vs. San Antonio.
(Getty Images)
The Spurs swept the Clippers last spring, exposing the banged-up youngsters and embarrassing them with total domination. The Clippers spent the offseason loading up on veterans. No waiting for the youngsters to develop, no focus on patience. Win now, keep Chris Paul, build something.

And on Monday night, they went up 2-0 on the Spurs this season. Regular season wins mean little, and by little, I mean almost nothing, but it's impossible to ignore this: The Clippers are now 5-0 against the Heat, Lakers, Spurs, and Grizzlies. That's five of the best teams in the league headed into Wednesday night's game against the Thunder.
No one game is going to prove anything, and they'll still be questioned till the postseason. But beating teams like San Antonio, espeically on the road, are a great place to start. The Clippers are setting a tone, and backing it up with their execution. There's less preening, no Lob City, just execution, versatility, and focus. The veterans LA added have brought a higher, sharper execution, and that is something you look for when assessing a team's chances in the postseason.

In San Antonio, the Spurs were without both of their small forwards, with Kawhi Leonard out with tendonitis and Stephen Jackson lost to a fractured pinky. But still, the crafty Spurs put together a run late to pull the game close.

And that's when the Clippers showed the marriage of veteran star power, depth, and young energy that has brought them to such a strong start. Blake Griffin hits a hook over Tiago Splitter. Eric Bledsoe cleans up a Chris Paul miss with a Mini-Bron tip-in. Jamal Crawford hits a floater, and finally, Chris Paul takes Tony Parker to the rack, creates separation and wins the game.

They had solid contributions from Matt Barnes early and Ronny Turiaf late. They figured out how to deploy Paul and Bledsoe in a lineup effectively. They used their size, their quickness, and their veteran players kept up the rotations to anticipate the San Antonio kickouts and prevent dagger threes, after losing Matt Bonner on a few to bring the game closer.

The Clippers' most impressive feat this season has been how complete they've been. They're consistently winning the battle on multiple fronts. The inconsistency and boneheadedness that plagued them last season has gone, and a more established identity with a stronger roster has emerged. Contributions come from everywhere.

The Clippers are raising their ceiling. And what better way to do it than sweeping the standard bearer for consistency and production in the Western Conference?

Say it loud, say it proud, the Clippers are legit.

(They will now inexplicably lose five of six.)