Steve Nash to miss at least next three games with leg injury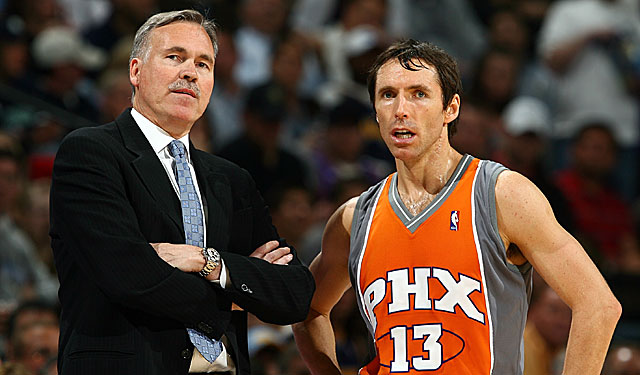 Does it make sense for the Knicks to go after Nash without Mike D'Antoni out of the picture? (Getty Images)
Before Mike D'Antoni's successful debut against the Nets, the new Lakers coach delivered some bad news. Steve Nash, still recovering from a leg fracture, will miss the next three games for the Lakers at least.
D'Antoni also told reporters that the Lakers won't be able to do what he plans on having them do without Nash, and it showed in their first game with D'Antoni at the helm.
The offense is too reliant on a passing playmaker probing the defense, skewering the opponent with pick and rolls and forcing defensive help to come and then punishing it with crisp passing to open up without Nash. Chris Duhon is about to see the best numbers of his career since the last time he played for D'Antoni in New York, and Darius Morris will get some time, but most of the work will be done by Kobe Bryant, and his operational tendencies are just different from Nash.
Still, there's no reason to rush Nash back, even with the schedule lining up two potential playoff teams in Memphis and Dallas. The Lakers lost to the Mavericks in their season opener.
This is the first major injury sustained by Nash outside of his degenerative back condition which limits him from time to time. The fact that he and Grant Hill have seen so little time due to injury makes you immedately wonder if the move from Phoenix's renown training staff has something to do with it, but the answer is more likely wrapped in coincidence and circumstance.
Still, the Lakers will continue to miss Nash, and we will not see a true Mike D'Antoni offense until Nash is back on the floor. Steve Blake, who D'Antoni is also very high on, continues to be out with an abdominal tear as well.