Kobe Bryant says Pau Gasol's conditioning isn't where it needs to be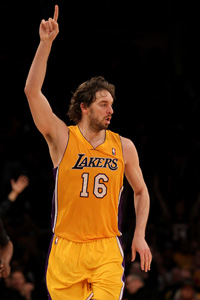 Gasol has struggled this year. (Getty Images)
Lakers F/C Pau Gasol is a 51 percent shooter for his career. So far this season, he's averaging 43 percent. His points per game and per 36 minutes are down, as is his rebounding. It hasn't been a great start for the Spanish legend.
Gasol is playing heavy minutes for a bench-short team in Los Angeles, and Kobe Bryant is publicly attributing Gasol's struggles to his conditioning.
"Pau is used to laboring up the floor and coasting a little bit," Kobe Bryant said. "In this offense, we have to put the motor on the first few steps we move up the court."
via Lakers question Pau Gasol's conditioning - LA Daily News.
Yahoo Sports notes more on Gasol's problems:
He's had his shot blocked eleven times this season through 12 games, and he appears to be fading on both his jumpers, and short hooks. The quick, improvised hooks or finger-rolls he puts up after an offensive rebound or extra pass? He's even leaning on those, and not following through. Gasol is so good that you'd hardly call him a millstone, he's kept the Lakers in several games with his brilliant overall play, but you look up that "43 percent" number after three weeks of Laker basketball, and it hardly surprises you.
via Kobe Bryant wonders if Pau Gasol might be 'coasting a little bit' because of his conditioning | Ball Don't Lie - Yahoo! Sports.
It should be noted that Gasol was one of the more vocally disappointed players in the decision not to go with Phil Jackson as head coach. That likely has to do with the fact not only that he fit so well into the Triangle and had so much success there, but it doesn't ask him to do anything he's not used to. D'Antoni's system does.
There are a lot of ways that D'Antoni's system could really benefit Gasol, but it's also going to take more physical exertion due to the pace. And until D'Antoni feels that he can give Antawn Jamison or Jordan Hill heavy minutes backing up Gasol, Pau will have to carry the load and do a better job at it.
It should be noted that Gasol's post defense has actually been considerable. Synergy Sports puts him in the 82nd percentile for defending in the block. But overall, his defense has suffered along with the Lakers' entire unit.
We'll have to see if this is something he works out of or a start to a poor season for the former All-Star.