Lakers G Steve Nash still hasn't been able to jog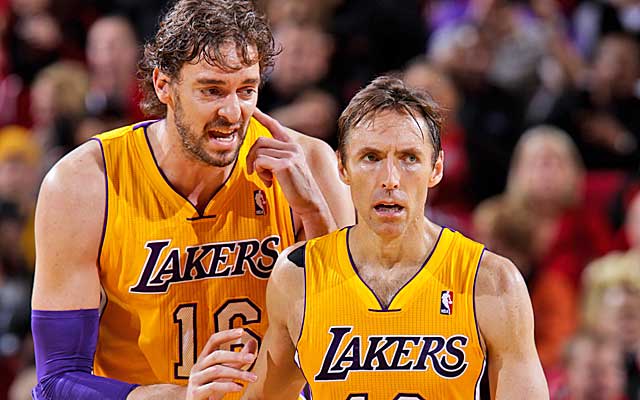 Who really knows when Steve Nash will be back.
(Getty Images)
First it was a week. Then closer to 10 days. We're now running on a full three weeks since Lakers guard Steve Nash injured his left leg, and it doesn't sound like he's really all that close to returning.
"I can't jog yet so ... I don't think so," Nash said when asked if he thought there was a chance he could play Tuesday, after being re-evaluated by the Lakers team doctors on Monday.
I'm no Hubie Brown, but I'm pretty sure the ability to jog is important in basketball.
Nash hurt his leg in a strange play where he banged knees with Portland's Damien Lillard, causing a small fracture in Nash's left leg.
"Hopefully, it's something that resolves soon," Nash told reporters. "Nobody really knows because it's not like tissue or bone. It's painful. It's under control right now, but it's still very sensitive so it can flare up. We just need to let the nerves settle down."
Nash is 38. While getting him back sooner than later would obviously be nice for the Lakers, there's not exactly any extreme rush, especially with Mike D'Antoni now running the show in Los Angeles. Nash clearly knows that system well and, while fitting in and learning his new teammates that he's only played really one full game with would be nice, he's as seasoned a player there is in the league. It won't take Nash long to get it.
One thing about that, though: It's not so much about Nash learning the system as it is his teammates learning how it runs with Nash running it.
However, his greatest value isn't in November. It's about March, April, May and beyond. Having him healthy now would be preferred. But with things under control now in Lakerland, hurrying back isn't all that necessary.
It's likely Nash will be back within the next week or two. But without him, the Lakers will lean on Steve Blake again, who is expected to return soon.