Lakers' Pau Gasol battling knee tendinitis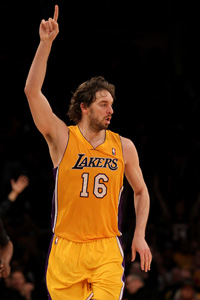 Gasol has struggled this year. (Getty Images)
What's up with Pau Gasol?
He hasn't been his usual productive self, averaging a career low in points per game on career-low shooting percentages. Seen as maybe the most dangerous player on the floor in Mike D'Antoni's new pick-and-roll-heavy system, Gasol just hasn't been himself.
Part of the issue is that his shot attempts have been trending in an awkward direction, as CBSSports.com's Zach Harper wrote. Kobe sort of called out Gasol on his conditioning.
But another possible problem? He's battling through some knee trouble. Via the L.A. Times:
Gasol was very active in the first quarter. He drilled a mid-range jumper, scored down low and hit a running left-handed hook shot over Chris Kaman [of Dallas on Saturday night].

He also had a revelation after the game. He has been battling knee tendinitis for over a month.

"It's something that has been lingering since this preseason. I've been dealing with it the best I can," he said.
The knee issue obviously isn't that big of a problem as Gasol hasn't missed any practice time or games because of it. But it's a lingering thing, and something that can definitely impact things like conditioning and performance. Gasol has had his shot blocked a whole bunch this season and hasn't been his normal dynamic self in the paint.
Maybe that's because he's adjusting to a new big next to him in Dwight Howard. Or maybe it's the knee. It's a pretty convenient excuse to drop out there, though, when you're not playing all that well. Not saying it's not legit, but sometimes enlightening everyone to a larger problem eases the criticism a bit.
Neither the Lakers nor Gasol probably have much interest in shutting anything down. Knee tendinitis is not anything other than uncomfortable. It can certainly impact performance, but Gasol's playing through it -- and the Lakers need him to. They're already behind a bit because of their shaky start and don't need another injury issue to delay the team finally playing at full strength.