Shane Battier expected to miss time with sprained knee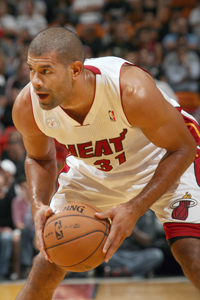 Battier will likely miss about a week. (Getty Images)
Shane Battier is expected to miss a few games with a sprained right knee after landing awkwardly Saturday in the Heat's win over theCavaliers.
Battier is officially listed as day-to-day by the team, but the expectation is that he needs a few off to recover. Good news though for the Heat: They're on a four-day break, giving Battier a little extra time.
"I'm sore, but overall, I feel pretty good," Battier told reporters via ESPN.com Monday. "I think it could have been a lot worse than it was. I've sprained an MCL before, so I knew what it felt like. I knew exactly what it was. It wasn't as severe this time."
Battier has been playing almost exclusively as a power forward/small forward hybrid after moving into the Heat's starting five to try and capitalize on their small-ball lineup that helped win an NBA title last season.
The Heat will miss Battier's outside shooting and perimeter defending though. After lighting it up in the Finals, Battier has continued to shoot well hitting almost 46 percent from 3 this season.
Without Battier, the Heat have options. They could go with Udonis Haslem or Rashard Lewis, or if they'd rather stay small, move LeBron James to that 4 spot and start Mike Miller at the 3. Or Joel Anthony could reassume his role as starting center and Chris Bosh slide back to power forward.
Point is, Erik Spoelstra has a bunch of options here. Having LeBron on your team tends to help these kinds of things.