Andrew Bogut still has no timetable, says his ankle 'is just not right yet'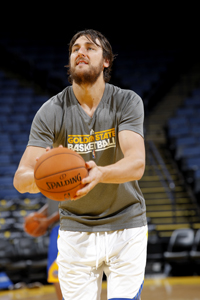 Bogut's back to having no timetable.
(Getty Images)
Another twist to the injury tale involving Golden State center Andrew Bogut.
Just a few days ago, he was reportedly set to return Saturday against the Pacers. Now? He's back to having no timetable and says his ankle is "just not right yet."
"Same. I'm still trying to get through rehab protocol," Bogut told reporters. "Still not back on the court yet. People out there are going to put timeframes on it. Media, analysts are all going to put what they think and when they think I'm going to be back. But I'm going to be back when I'm ready to play at 100 percent and my ankle feels like it's ready to play at 100 percent. As of now, it's not going to be this week."
Bogut was supposed to begin practicing on Monday, but he has yet to practice this week and isn't scheduled to.
One thing to watch for when he does return is if he'll be limited with his minutes. Bogut did play in four games but played only 18.3 minutes per game.
"That was probably my mistake early on," Bogut said about playing early in the season. "The team was very supportive, but I wanted to play the first game of the season. I've never missed an opening night in my career, and I didn't want to miss this one. But I was probably a little stupid with it."
Bogut said he can't change direction, which doesn't seem to be a good sign for a guy who was supposedly looking to return soon.
Another revelation in this Bogut ankle saga: He apparently had microfracture surgery on his ankle, according to the Oakland Tribune.
"Some people go in for microfracture surgery. This wasn't that," one source said pointing out that players who are experiencing chronic and degenerative problems turn to microfracture surgery.

Bogut, on the other hand, went in to get his left ankle cleaned out of scar tissue and bone fragments. When Dr. Richard Ferkel was inside, he noticed a "minor" cartilage issue and he addressed it with a form of microfracture surgery. The major part of the surgery, the source said, was cleaning out the debris.
During the last three seasons, Bogut has missed 137 games. He was traded to the Warriors last season to help reform the team as a slower, more defensive-minded group. Golden State parted with Monta Ellis to get the big man but hasn't had the chance to really see how Bogut impacts the team.
They have done a solid job in this early season, though, going 8-6. But Bogut obviously is a major part of the plan and, assuming he returns somewhat healthy -- which is what this shutdown was supposed to ensure -- he's going to help an already-solid team quite a lot.