Chauncey Billups to start at shooting guard for Clippers Wednesday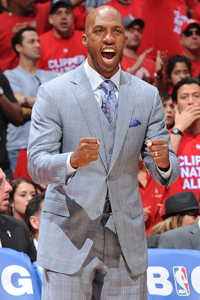 Billups is trading his suit for a uniform on Wednesday night.
(Getty Images)
The Clippers are already deep, but they're about to get deeper.
Why? Because one of their starters is about to go to the bench.
Chauncey Billups will make his return Wednesday night, starting at shooting guard, the team announced. Willie Green has been starting at shooting guard so far this season for the Clippers.
The Clippers host the Timberwolves on Wednesday night.
"We are all excited to have Chauncey back," Clippers head coach Vinny Del Negro said. "I know how hard he has worked to get to this point and we are looking forward to incorporating him into the lineup."
Billups, 36, has been out recovering from a torn Achilles that he suffered on Feb. 6.
Ken Berger of CBSSports.com reported last week that, according to a source, Billups could return "any time" but officially was targeting early December. Well, it's Nov. 27, so a few days ahead of schedule.
In 20 games last season, the Clippers were 14-6 with Billups before his injury.
The Clippers have been blessed with one of the league's best and deepest benches, so it'll be interesting to see how Del Negro handles his substitutions. Whose minutes does Billups take? Is it as simple as just swapping him and Green out? Will Del Negro continue to give minutes to dynamo Eric Bledsoe? Does Jamal Crawford still get fourth-quarter minutes?
It's one of those good problems to have, but only if you handle it right. The Clipper bench is solid, and the addition of a good veteran should only strengthen the team. But taking minutes away from Bledsoe or Crawford wouldn't be wise, considering how outstanding each has been this season.