Mavs officially sign Derek Fisher, waive Troy Murphy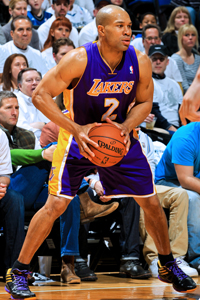 The Mavs signed Fisher and might even make him their starter.
(Getty Images)
What Rick Carlisle told everyone Wednesday night is true: The Mavericks have officially signed Derek Fisher, the team announced Thursday.
To make room for Fisher, the Mavs released forward Troy Murphy.
Murphy appeared in 14 games for Dallas, averaging 4.6 points and 3.5 rebounds in 18.3 minutes per game.
Fisher, 38, has been searching for a spot after not being retained by the Oklahoma City Thunder last season. Before that Fisher was traded from the Lakers to the Rockets, where he was bought out.
The interesting twist to this is that according to reports, there's a more-than-solid chance Fisher will be the Mavs' new starting point guard and a mentor to Darren Collison. Via the Dallas Morning-News:
"I loved the way (Collison) played in Philly (off the bench)," said Carlisle, who announced the Fisher news after the Mavericks' 101-78 blowout loss to Chicago on Wednesday night. "I think that's a great role for him right now. I think Fisher can help us as a starter. This is a great opportunity for Darren to develop into a true starting point guard in this league.

"I really like Darren Collison as a player, and I like him even better as a person. But putting him in a position to be the starter on this team right now isn't fair to him. With Derek coming in, it's a great opportunity for Darren to learn from one of the greatest winners in the history of the game."
Fisher is known for his leadership and 3-point shooting. He's a five-time NBA champion. But that doesn't make him a capable NBA starter. But good luck with that, Mavs.