Raptors sign free agent forward Mickael Pietrus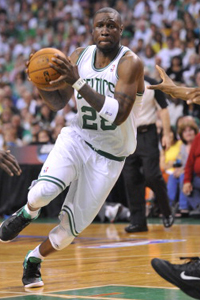 Mickael Pietrus is a Raptor. (Getty Images)
The Raptors have been desperate for a veteran small forward for months. They were shopping for one around the draft, couldn't find one, and wound up taking Terrence Ross. But with their continuing holes at the position, they've elected to bring one in.
Mickael Pietrus has been holding on, weighing his options for which team he wants to play for and seeing what the best deal he could get is. Finally, he decided to join the Raptors on Thursday as reported by USA Today and announced officially by the Raptors on Friday morning.
Pietrus is -- fine. He's a decent rotation player who can hit 3s in streaks and has some athleticism left to guard perimeter players. The only question is why, if Ross is finally starting to come into his own as he has shown in recent weeks, the Raptors who have hit the skids think it's necessary to bring a veteran in now. This is the kind of move you make if things are going well for you and you want to top it off, not if you're terrible and facing a potential tank job in two months.
But the Raptors must believe they just have a few things to sort out to compete and small forward is one of them. Pietrus averaged 7 points and 4 rebounds last season with Boston, shooting 39 percent from the field and 33 percent from 3-point land.
USA Today reported he signed for the veteran minimum for one season.