Marvin Williams out Friday for Jazz as Mo Williams returns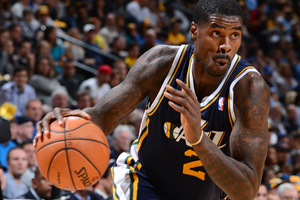 Marvin Williams is out Friday.
(Getty Images)
The Utah Jazz announced Friday that forward Marvin Williams will not play Friday night against the Oklahoma City Thunder in OKC. Williams failed the second test of the NBA's concussion protocol. From the Salt Lake Tribune:
Carroll gets the call against the Thunder after first-year Jazz forward Marvin Williams was ruled out following a second concussion protocol exam. The NBA's concussion policy is exhaustive, and requires a player to pass physical and mental tests, which he can't undergo until he has been headache-free for two days, Jazz trainer Gary Briggs said.

Point guard Mo Williams, who has missed the Jazz's last three games with a right foot injury, will play.
via Utah Jazz: With Marvin Williams out, Carroll gets nod vs. Thunder | The Salt Lake Tribune.
Getting Mo Williams back will help with their point guard play, but Jamaal Tinsley has played well in his reserve minutes. Meanwhile, DeMarre Carroll is the starter for the Jazz and will have to guard Kevin Durant. It should be noted that Carroll's production in limited minutes has been phenomenal. He's a hardworking do-it-all defender. The question is whether he can hit the corner three reliably to help space the floor for the Jazz big men.
Williams is averaging 10 points and 4 rebounds on 45 percent shooting this season for the Jazz.