MRI negative on Jason Kidd's back, but guard still out Friday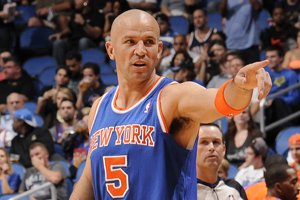 Jason Kidd could return next week.
(Getty Images)
Jason Kidd missed Monday's game against Brooklyn with a bad back, then Wednesday's game against Milwaukee. The rumors coming out of the Knicks locker room were that he could be out "a while." But Kidd addressed the media Friday and said an MRI taken showed no significant damage. From the New York Daily News:
Jason Kidd revealed that an MRI of his injured back did not show any significant damage and the veteran point guard remains optimistic that he will return to the lineup by Thursday's game against the Miami Heat.

"Hopefully, that's the plan, is to get me out there sometime next week," Kidd said on Friday. "We're just going to take it day by day and see. Today was a great day working out so we'll see how I feel tomorrow."
The Knicks' offense bounced back in a big way against Milwaukee, but with Kidd still out the team will have to keep up the focus. They play Washington on Friday.
The margin of error for both Carmelo Anthony and particularly Raymond Felton goes down significantly with Kidd out. Kurt Thomas is expected to once again start at power forward for the Knicks, moving Anthony back to the three spot.
Why coach Mike Woodson doesn't just stick with Anthony at power forward and move J.R. Smith into the lineup with Ronnie Brewer at the 3, but Brewer-Anthony-Thomas does have a +15 efficiency, and Woodson has only played the three together a total of 15 minutes.
Kidd getting back against the Heat will be important, as Miami is unlikely to lay down as it did in the Knicks' season opener in the wake of superstorm Sandy.