Pau Gasol to miss Tuesday night's game vs. the Rockets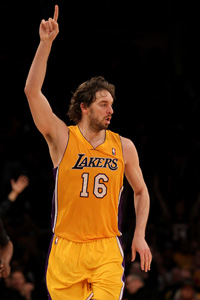 Gasol has struggled this year. (Getty Images)
The Lakers announced at shootaround Tuesday that forward Pau Gasol will not play against the Houston Rockets because of tendinitis in his knees. He is listed as day-to-day.
Gasol has struggled mightily this season, whether due to the system or his health. He has seemed to lack focus and has had a very difficult time getting up and down the floor in Mike D'Antoni's system, something that's kind of important.
While he's also looked mentally out of the loop, physically is a much more manageable and direct concern. Sitting Gasol to get him some rest is not a bad plan. But given the kind of speculation that currently surrounds him, it's only going to fuel rumors that the Lakers are working on trading the former All-Star, despite heavy indications in the media that the team wants to see how he does when Steve Nash returns.
Against the Rockets, using the faster, more lithe Antawn Jamison and potentially Jordan Hill will be a better match-up regardless. The Rockets have used emerging forward Patrick Patterson well in that spot and having the ability to spread the floor and run will help on both sides of the ball in what should be a pure race of a game Tuesday night.
Gasol is averaging a career low 13 points and 9 rebounds on just 42 percent shooting this season.