Ultrasound confirms plantar fasciitis for Derrick Favors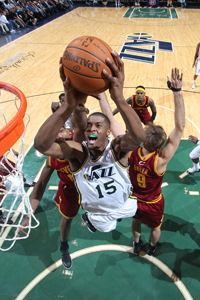 Favors has plantar fasciitis.
(Getty Images)
The Salt Lake Tribune reports Tuesday that hyper-athletic forward Derrick Favors has developed plantar fasciitis -- a notoriously painful condition that can take a long time to heal.
Favors didn't participate in shootaround as he continues to deal with a strained right arch. An MRI taken Sunday was inconclusive, but an ultrasound done on Monday confirmed he has plantar fasciitis.
via Utah Jazz: Marvin Williams, Derrick Favors out again; Jazz still go old school | Deseret News.
Plantar fasciitis is one of the worst non-traumatic injuries you can sustain, especially as a big man, according to a lot of experts. It doesn't do structural damage, but instead is just incredibly painful over a long period of time, and only improves with rest, which, of course, is impossible for an NBA player.
Notable players who've struggled with plantar fasciitis include Tim Duncan, and this season Wizards center Nene. Pistons guard Brandon Knight also dealt with it earlier this year.
Favors missed Monday's game vs. the Clippers with the injury and is listed as day-to-day.
The injury could complicate matters for the Jazz, who have been trying to shuffle their four good big men in Favors, Al Jefferson, Paul Millsap, and Enes Kanter. Many expect them to be active on the trade market with their bigs, considering both Millsap and Jefferson have expiring contracts.