Nightly Grades 12.4.12: Dwight Howard cannot shoot free throws well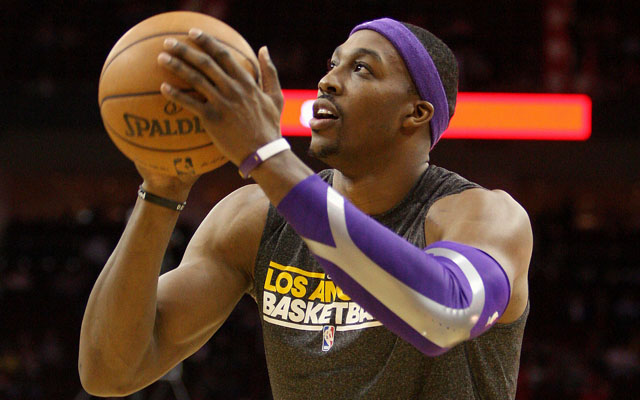 Not a good look... and I don't mean the headband.
(Getty Images)
Each night, Eye on Basketball brings you what you need to know about the games of the NBA. From great performances to terrible clock management the report card evaluates and eviscerates the good, the bad, and the ugly from the night that was.



Hack-A-Dwight
The secret to intentionally fouling as a strategy is not the missed free throws. That helps. It's that it completely stops the flow of the game. NBA players rely on rhythm and flow. Messing with that destroys it and gets everything out of whack.

The Lakers fell into that trap against the Rockets. It wasn't just Dwight Howard's 5-10 free throw performance in the 4th quarter, it was how it disconnected the Lakers on both ends. Mike D'Antoni tried trusting Dwight Howard. He found out the same thing Stan Van Gundy did. Not a good idea.
Oklahoma City Thunder
The Thunder had 12 turnovers and shot 60 percent from the field. They sported a 125.9 offensive efficiency which is hotter than napalm. And yet you felt like they could have played better against the Nets. Their defense had lapses, which allowed the Nets to briefly breathe life before it was snuffed out. But it's good enough for a high-quality road win.
Memphis Grizzlies
Almost losing to the Suns at home is a pretty terrible performance. But Zach Randolph's 38 points and 22 rebounds was so fantastic and their energy to close out the game so strong, it's a sign that Memphis can play badly and still win this year. Another step forward for the Grizzlies.
Houston Rockets
You realize James Harden and Jeremy Lin were 5-27 from the field Tuesday night? Five-of-twenty-seven. They shot 38 percent from the field as a team, 20 percent from three. They basically let the Lakers run all over them for a half, and then crushed them in the fourth. But man, Greg Smith. The guy keeps validating the decision to bury the talented rookie bigs on Houston. Huge win for the Rockets.
Miami Heat
Let's be honest here. If the Heat had given a quarter-of-a-crap against Washington, they would have won. They just couldn't be bothered, giving up 60 points in the first half to the league's worst offense. Miami's coasting, as most champions do. But they still get bombed for this kind of performance.
Dwight Howard
Well, he couldn't protect the rim but at least he's a total liability from the free throw line.