Mario Chalmers could be out five games for the Heat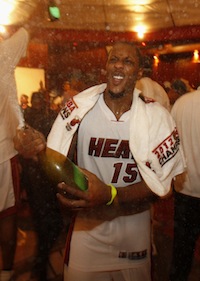 Chalmers could miss five games.
(Getty Images)
I think this is what you'd call adding injury to insult.
While losing to the previously one-win Wizards on Tuesday, the Heat also lost Mario Chalmers to a finger injury which is going to cause him to miss some time, according to the Sun-Sentinel.
Chalmers tore a tendon and will be out at least seven to 10 days, according to a source. The injury occurred in the first half of the Heat's 105-101 loss. Chalmers was taken to the locker room, returning for the second half with his finger in a splint.

"I caught a pass," Chalmers said after the game. "Somehow my finger got caught in the ball."
For most teams, the idea of losing their starting point guard for a week is scary. But then again, the Heat only have point guards in name. We all know that LeBron James and Dwyane Wade run the show in Miami.
That's not to say Chalmers isn't an important piece though. Just rewind and watch Game 4 of the NBA Finals if you've forgotten. He's a good spot-up shooter and a knock-down guy that helps space the floor.
And he does initiate some of the offense sometimes too.
The Heat played Tuesday without backup Norris Cole who is out with an injured groin. So if he's unable to play on Thursday against the Knicks, the Heat will actually just go without a point guard at all. Next on the depth chart is, well, no one.
There's Terrel Harris, who really isn't a point guard, but who would likely move into the rotation.