Dirk Nowitzki likely out until 2013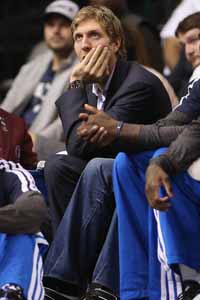 Dirk out until 2013?
(Getty Images)
The Mavericks keep telling themselves this: Just hang in there, keep our heads above water, just stay in it until Dirk gets back.
And they've done a decent job of it. But they probably didn't expect it to take this long for Dirk Nowitzki to return.
He's been out since mid-October after having arthroscopic knee surgery and while there hasn't been a firm timetable for his return, many thought that time would soon be arriving. Nowitzki returned to the floor Wednesday for some light shooting and dribbling, but with no running or cutting.
Nowitzki is not close to coming back. The original target was mid-December, but Dirk admitted he's probably not going to hit that. Via the Dallas Morning-News:
"It (the knee) is better," Nowitzki said. "But now, obviously, not doing anything for six weeks, there's a lot of strength that you lose. Your quad muscle gets weak. And so the last week or so we increased the work load and tried to get the quad strength back.

"We said from the beginning the only way I could get back on the court was when the swelling is gone and the quad strength is back. And so we got a long way to go.

"Now, it's already December 5th. I don't think middle of December is happening now to be honest. That was my goal a couple weeks ago. But the swelling was in there too long and it held me back too long and I couldn't start working soon enough."
This Mavs team isn't going anywhere without a healthy Nowitzki. They're 8-10, and probably lucky to be that. They have to have not only Nowitzki, but a Nowitzki at 100 percent.
They're in that tight spot of taking their time to make sure he's 100 percent, but can't afford to fall too far behind or the season could be lost by the time he comes back.