Nets' Brook Lopez out vs. Knicks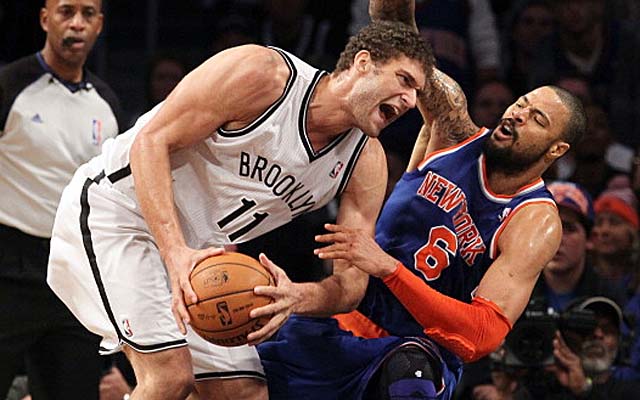 Lopez's recovery from a foot injury has kept him out the Nets' lineup for four games so far. (Getty Images)
Update Tuesday 7 p.m. Nets GM Billy King announced Brook Lopez is out against the Knicks on Tuesday, that Lopez just wasn't in condition. This is a huge blow to the Nets who have gone 0-4 without Lopez as they head into Tuesday night's game. Reggie Evans will continue to start along with Andray Blatche, with Kris Humphries coming off the bench.
************************
Brook Lopez was supposed to miss two games with a sprained foot. It's been five and Tuesday night's game makes six games that Lopez has missed. The results have been disastrous for Brooklyn, with the team unraveling without Lopez, who has arguably been its best player.
Even though the Brooklyn Game reported that Lopez went through practice Monday, Lopez was a late scratch and would sit out against the Knicks in the Nets' second Super Bowl of the season.
Over the weekend, coach Avery Johnson said Lopez's progress had been slower than expected. From the New York Daily News:
"It's approaching that point now," Johnson said about whether Lopez's recovery has been considerably slower than expected. "I've been giving you the same answer. It's a little bit slower than we thought."

Actually, it's been a lot slower. ...He doesn't feel comfortable or confident enough to make cuts or experience full contact. The center missed last season with a stress fracture of the fifth metatarsal and there is an increasingly likely chance this latest problem is a significant setback.

Johnson outlined a series of tests that Lopez must pass before he is allowed to return, concerned "with a foot history like this." The player would need to demonstrate the ability to run, to cut.
via Brooklyn Nets are not contenders without star center Brook Lopez, who likely won't be ready vs. NY Knicks on Tuesday -- NY Daily News
That's obviously a concern based on the nature of the injury and the fact that Lopez suffered a broken foot last season, which kept him out for most of the year. But his practicing is a good sign and Nets fans can hope he will return soon.
The Nets need him badly.