Nightly Grades 12.10.12: Linsanity returns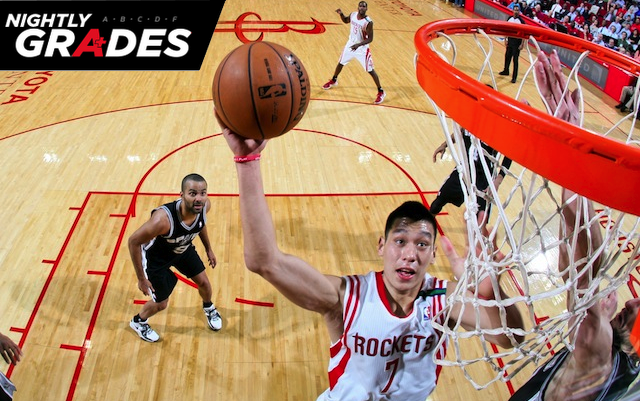 Linsanity, at least for a little while.
(Getty Images)
Each night, Eye on Basketball brings you what you need to know about the games of the NBA. From great performances to terrible clock management, the report card evaluates and eviscerates the good, the bad and the ugly from the night that was.

| | | |
| --- | --- | --- |
| | Tony Parker | Parker recorded his first career triple-double -- 27-12-12. In overtime, albeit. And the Spurs won, too. |
| | Linsanity | The obviousness has been growing that Jeremy Lin and James Harden don't make sense together. Harden is too ball dominant for Lin to get loose and make his impact. But with Harden out with a sprained ankle, Lin gave us a little taste of Linsanity with 38 in an overtime loss to the Spurs. He was the Houston offense, creating, attacking, using the pick-and-roll, finishing and scoring. He was fantastic. A shame that there's not a great way for Harden and Lin to make this happen together. |
| | Golden State Warriors | The fact they beat the Bobcats isn't all that impressive, but the fact that they are now 14-7 is. If Andrew Bogut can get healthy and add something, this could actually be a dangerous playoff team. |
| | Josh Smith | Smith wasn't bad by any stretch against the Heat. He finished with a solid line and was a big part of keep Atlanta close. He fell in love with the jumper a bit in the second half, which is a love-hate kind of thing with Smith. Love it when it goes, hate hate hate it when it doesn't. |
| | Tim Duncan | Nobody cares less about this than Duncan because the Spurs won, but he went just 1-of-9 from the floor for 10 points and didn't especially factor in to San Antonio's super fun overtime win over the Rockets. |
| | Dwyane Wade's coroners | It was a bad night for those that think Wade is over the hill. Just when you think maybe he's declining, he pulls you back in. He finished with 26 points on a sparkling 11-of-13 from the floor, and more importantly, looked a whole lot like Dwyane Wade. He might have some rough nights. He might not have that same athleticism. But Wade still has it and when he needs it, he can show up. |