Kevin Love has little love for how things have gone down in Minnesota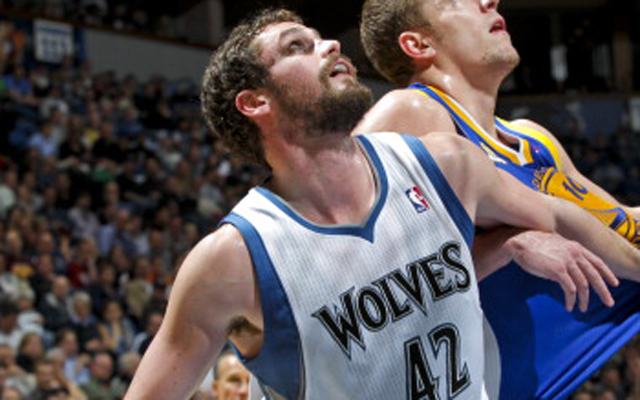 Love is not happy with what's gone down in Minnesota.
(Getty Images)
Kevin Love really wants to make his point made. Since reluctantly signing a four-year extension last year with the Timberwolves despite wanting, and honestly, having earned, a five-year max extension, Love has repeatedly made comments to the effect that he was not happy with how it went down.
In July, he spoke to the possibility of wanting a trade if the team didn't make the playoffs.
In October, he said he was "past it" even while he repeatedly mentioned how upset he was over how it went down, mentioning "behind the scenes issues."
And now, in the midst of a season where he has just returned from injury and the Wolves' playoff prospects are finally looking up, Love has once again taken to a major outlet to voice his displeasure over the fact that the team didn't commit to him. From Yahoo Sports:
"I don't know who labels people stars, but even [T'wolves owner] Glen Taylor said: I don't think Kevin Love is a star, because he hasn't led us to the playoffs," Love told Yahoo! Sports. "I mean, it's not like I had much support out there.

"That's a tough pill to swallow."

No, Kevin Love isn't over Taylor and GM David Kahn refusing him what he had earned. He isn't over Kahn marching into the trainer's room after a loss and thrusting a contract offer sheet into his hands. Where else does it work that way in the NBA? "I'm not the one to always follow professional protocol – but I do know what it is, even at 24 years old," Love says.
(via Kevin Love unsure about Timberwolves' future - Yahoo! Sports)
And Love's list of grievances doesn't end there. Love expresses frustration with the team's decision to trade Al Jefferson for picks and cap space, on how the organization seems to lack direction, on how he has never felt the organization really appreciates him.
This is not hard to figure out.
Love seemed to have his disenchantment eased when the Wolves hired Rick Adelman to replace Kurt Rambis. Adelman and Love have a good relationship, and Adelman has shown he knows how to feature Love. Owner Glen Taylor isn't going anywhere for a few years. That's not changing. And he clearly wants to win, having put significant financial resources towards contention.
So who's left?
You guessed it.
Kahn.
General Manager David Kahn has garnered some notable support over the last few months, with people asking "Well, if he's in charge, and the Wolves' roster looks so good, maybe he is a really good GM." But anything more than a rudimentary exploration of how the Wolves have operated since Adelman took over coaching responsibilities reveals that most of the approvable moves have been based around Adelman.
Taylor admitted this fall that at the end of the season, Adelman provided a list of the players that he wanted gone. On that list? Darko Milicic who Kahn gave $20 million. MIchael Beasley, who Kahn traded for. The list goes on.
That five-year extension that only one player can have on the team is being saved for one player, and there's no secret about it, Ricky Rubio. Rubio is Kahn's prize, the one player he maneuvered to draft (along with Jonny Flynn, that worked out well). Rubio is "his guy," and the Wolves are caught in the moment clearly planning to build around Rubio, even while All-Star and MVP candidate Love is right there.
So Love will continue to stew. He knows this Wolves team is better. But that's not enough for Love. Remember, Love is a member of a class of players who don't wait. They want everything, now. The iconic star of this era, LeBron James, abandoned his home state because he knew he could win titles in Miami with Dwyane Wade and Chris Bosh. Carmelo Anthony ditched Denver. And Love has never been shy about his expectations.
He doesn't want a good team.
He wants a great team.
And he knows that those teams, historically, in the NBA, are found on the coasts with organizations with strong track records.
You see where this is going.
Love's still under contract and it would take an outright detonation by Love to force the issue and cause a trade before his opt-out is available in 2015. But the signs are all there. And you have to wonder if the choice for Taylor is going to wind up being simple: David Kahn or Kevin Love, and how that power battle will work out.