Lakers hit rock bottom -- at least we think so -- in loss to Cavaliers
This is it. It cannot get worse than this. We don't think. It's possible that Friday's game in Washington presents another fine opportunity. But from how this went down, you have to think that Tuesday night in Cleveland is the absolute low.
This has to be rock bottom for the Los Angeles Lakers.
The Lakers lost 100-94 to the Cleveland Cavaliers on Tuesday, and with this win the Cavs are a woeful 5-17. The Cavs got Kyrie Irving back, and we'll get to him in a minute, but the rest of this team outside of Anderson Varejao is not good. Dion Waiters, their third-best player, was out, and he's shooting 36 percent this season. Their third-best player is shooting 36 percent on the season -- and did not play -- and Cleveland beat the Lakers.
The Lakers drop to 9-13. That is a worse start than the 2004-05 team featuring Chucky Atkins and Chris Mihm, or the 2005-06 team featuring Smush Parker and Kwame Brown. Those were hardly Showtime-caliber Lakers teams.
It was the same story as always for these Lakers, who were turnover prone (18 turnovers), had no help from supporting players (Kobe Bryant, with 42 points, made more field goals than the rest of his teammates combined), and their defense was atrocious. They surrendered fast break point after fast break point with no end in sight.
They were sloppy, they were inconsistent, they were lethargic, they were bad. Bad, bad, bad.
Did I mention the Lakers dropped to 1-10 when Kobe Bryant scores over 30 points?
Oh, yeah, and in his return from a broken hand, Irving scored 28 points on 21 shots, adding 11 assists and six rebounds. You want the Lakers night summed up in a possession? Here you go.


Oh, hey, Dwight, you look a little bit like a yo-yo there.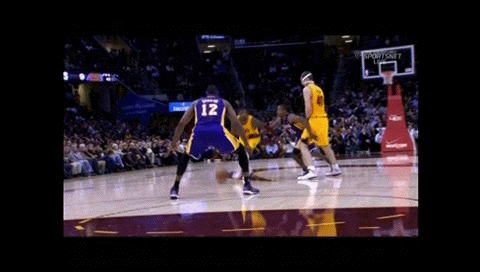 Or maybe this shows what the Lakers experienced better (via SI.com):
The Lakers head to New York on Thursday for what looks like another loss, and then Washington on Friday to face the worst team in the league in the Wizards. A loss there, and you can only imagine the carnage in Los Angeles.
After the loss, Kobe Bryant revealed his frustration:
Kobe talked for nearly 15 minutes postgame, saying this is "the toughest stretch" of his Lakers career. He said ...

"This it the most challenging stretch I've been in in my 17 years, for sure. The most baffling." His point was that he doesn't understand why this team is 9-13 when he expects it to be a championship-level team. The more Kobe talked, the more he said he still has a good feeling about how this will end up, though. He cited turnovers and transition defense as the main ongoing problems but also wants to see more intensity throughout the team.
via Kevin Ding's post on LA Lakers | Latest updates on Sulia.
Bryant also had some expletives about his teammates and their performances.
And Mike D'Antoni wasn't exactly a happy camper, either (via Silver Screen and Roll):
So here it is, with a loss to the lowly Cavaliers in December, an embarrassing start gets worse. Steve Nash could be out several more weeks because of a persistent leg injury. Pau Gasol could be back but hasn't returned yet. Dwight Howard is slow on rotations, and Kobe Bryant is questioning a teammate's intensity (and I don't think he means Antawn Jamison).
ESPN reports the team is looking for an upgrade at point in case Nash is out even longer than expected:
A source told ESPNLosAngeles.com that the Lakers' options at this point are somewhat limited, but they'll likely consider free agents like Delonte West, who was cut by the Dallas Mavericks in October, and Eddie House, as well as a trade.
via Source -- With Steve Nash still out, Los Angeles Lakers begin weighing point guard options - ESPN Los Angeles.
That's right, the mighty Lakers are looking at Eddie House as a way to improve their starting point guard.
Optimists will continue to point to Nash, that Nash will fix everything. And indeed, the turnovers should reduce with Nash managing the offense. But he won't help them defensively, he won't guard at the rim, and he won't fix the rest of the offense. Nash will help. He won't solve everything.
If this isn't as bad as it gets, it's hard to imagine what bad looks like.
The biggest disappointment in professional basketball continues to slide.