DeMarcus Cousins fires back at O.J. Mayo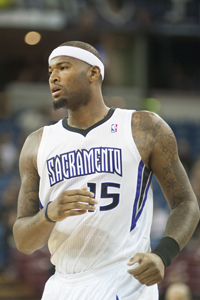 DeMarcus Cousins fired back at O.J. Mayo
. (US Presswire)
O.J. Mayo of the Dallas Mavericks didn't hold back when talking about the Sacramento Kings' DeMarcus Cousins.
Following a small scuffle on the court where it appeared Cousins gave Mayo a low blow, Mayo went off, saying Cousins had "mental issues."
So naturally, Cousins heard and gave a response. Via the Sacramento Bee:
"I heard," Cousins said. "This coming from a guy that doesn't have a great image himself. So what does his really mean? I'm fine with it."
Fair rebuttal. Mayo has had his own on- and off-court issues: most notably getting in a fight with Tony Allen on the team plane and being suspended for violating the league's drug policy. In Cousins' mind, this is a pot-meet-kettle kind of thing.
Cousins wasn't done. Mayo said Cousins could be a franchise player if he'd get his head straight.
"Is he a franchise player?" Cousins said. "So how is he going to tell me what I am?"
I didn't know that being a franchise player was a prerequisite for making those kinds of statements, but fair point. Mayo doesn't exactly have room to talk. Don't forget: He was probably the most hyped high schooler since LeBron, was taken third overall, and considering his status, has been pretty disappointing.
Cousins says his low blow was accidental, though it certainly didn't appear to be.
"In slow motion it looks like I did on purpose," Cousins said. "But you look in real speed you see what happened. Of course it's gonna get thrown out there that I did it on purpose."
Either way, this is one of those things where you say, "This is so stupid" and move on. Mayo said his part, Cousins responded, and now it should be done. Mayo had some good points about Cousins. He is immature. He is somewhat of a knucklehead. But he's also a really gifted basketball player. Mayo, though, has had his own problems and really shouldn't be casting stones himself.
All square now, right?