Quarterly Report: Winners and losers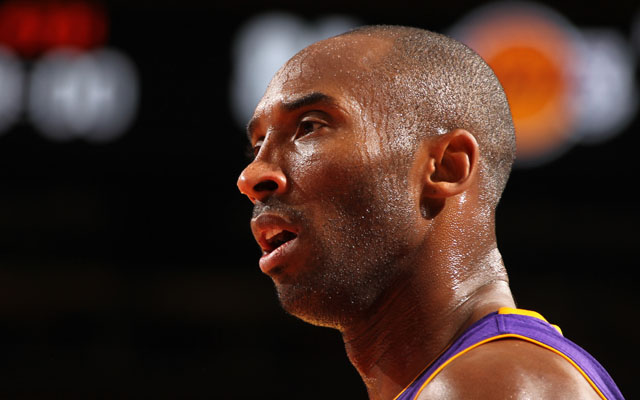 Kobe and the Lakers stumbled out of the gate this season.
(Getty Images)
Let's start with the losers, since our headliner there is the season's biggest story.
Pacific Division
Los Angeles Lakers
It's most certainly the Lakers. They're currently holding the 12th-best record in the Western Conference. Sure, Steve Nash and Pau Gasol have been out. And they're still trying to get acclimated to a new coaching style that happened in-season. However, at a certain point you have to figure they have enough talent with all of these issues to put out a better effort and better record than they're showing.

They're wasting Kobe Bryant's best season in a long time (offensively) and putting more and more pressure on themselves with each passing day. But they are being generous by giving Twitter and the entire online community plenty to joke about. That's nice of them to do. -- Zach Harper
Northwest Division
A horrible opening schedule that you can imagine only came about because George Karl lost some sort of bet with someone in the NBA league office has put them at a disadvantage, to be sure. But they've had winnable games in their grasp and let them slip with turnovers, poor free-throw shooting, and bad late-game execution. Is home cooking going to be enough to set them right? -- Matt Moore
Southwest Division
Monty Williams

He loses Eric Gordon to vague knee soreness, then the No.1 draft pick goes down with a variety of ailments. He has no real point guard and is leaning on complementary players. The only bright side for him was that he would have his two star players, and they're out. Whoops. -- Matt Moore
Central Division
It has to be the Indiana Pacers right now. Heading into the season, it seemed like the Pacers were poised to be one of the top teams in the East. Then Danny Granger's knee became pretty bad, he's going to miss about three months to start the season, and they have the third worst offense in the league. Roy Hibbert has been great defensively but can't make shots. Paul George is all over the place in good and bad ways.

The only constant has been the awesomeness of David West. He's playing possessed, like he never severely injured his knee a couple years ago. The bench is the fourth worst at making shots and the second worst at making 3-pointers. The defense can't hold them forever. Sometime soon, this team has to make shots. -- Zach Harper
Atlantic Division
Bryan Colangelo
Colangelo thought he had assembled a roster he could win with and a coach to put it together. Instead, his golden calf Andrea Bargnani has put in his worst season to date, Kyle Lowry has been surly and ineffective, and the rest of the roster looks like a total mess. But the real reason Colanglo loses here is that he recently tried to pawn it off on the players and coaching, saying talent wasn't an issue. Wake up and smell the Italian cafe, Mr. Colangelo. -- Matt Moore
Southeast Division
Matt Moore
That's right, I'm the loser of the Southeast Division. You know why? I got talked into this team. And even with the injuries, they're a disaster, a royal one. The roster is bad, the coaching is bad, the mascot is bad, it's all bad. The Wizards are too far gone for John Wall to redeem them, in a season in which a veteran core was supposed to redeem Wall. It's all gone to hell in Washington, and the media, including myself, should have known better. -- Matt Moore
Pacific Division
I probably should say the Clippers are the winners of this division so far because they have the best player in the division and the best record, but the Golden State Warriors are just brimming with victories and hope right now. They're 15-7, including 9-4 on the road, and that's with Andrew Bogut playing in just four games this season.

One thing to look for is how any lineup with Jarrett Jack, Klay Thompson and Stephen Curry plays at home. So far this season, that three-man component has a differential of +12.7 in their nine games at home. They're destroying teams at Oracle Arena with that concoction and it's only getting more chemistry and continuity together. They're feeding off the crowd right now and burying teams. -- Zach Harper
Northwest Division
How about the Thunder, for managing to trade their third-best player and still wind up dominating the league? The Thunder have looked awful impressive in these first few weeks, with Kevin Martin filling a different role than James Harden, but still producing. Using Martin as a knockdown shooter, and with improved contributions from Serge Ibaka, and yes, Russell Westbrook, the Thunder haven't skipped a beat.
What beard? -- Matt Moore
Southwest Division
James Harden

He may have lost title contention, but he did sign for $80 million and a huge opportunity to become a star. Harden has blistered the league, scoring 25 points, 4 rebounds, and 5 assists per game for Houston which is inconsistent, but has a lot of upside. He's been the star player that Daryl Morey has craved. He's earning the hype.
Atlantic Division
Carmelo Anthony

And no one has had a better quarter than Anthony, who planted himself firmly in the MVP race with his play. While Kobe Bryant says Melo hasn't changed at all, the truth is that Anthony is making better decisions with regard to shot selection and spacing. He's embraced a smarter, more efficient role and it's paid off. This isn't the same old Melo, it's the full power of what he's capable of, and it's been incredible to watch. -- Matt Moore
Central Division
I'm not sure there is an actual winner in this division but I'll probably go with the Chicago Bulls so far. They currently have the second-best defense in the NBA, a middle of the road offense, and are sitting at 12-9 (fourth in the East). All they've had to do is tread water and continue to be a strong defensive team for whenever Derrick Rose is able to return to the lineup.

The concern (outside of Rose's health) moving forward is the shooting off the bench. Last season their bench was second in the NBA with 40.5 percent from 3-point range. Right now, their bench is 22nd in the NBA with 32.7 percent from downtown. Role players will need to complement Rose even more when he comes back. Maybe he can open things up for their shooters. -- Zach Harper
Southeast Division
Larry Drew
After two years of uninspired offense featuring "ISOJoe" (isolations for Joe Johnson), the Hawks have turned into a much more balanced offensive attack. The defense is still there, but they're getting more equal distribution of touches and production from their players, starters and bench. Larry Drew has done a masterful job of turning a rebuilding team into a fun NBA League Pass watch that's also converting in the win column. -- Matt Moore